Winter's End
As the wettest most miserable winter comes to a merciful end, and the trout season nears, I am compelled to recount last summer's dry fly fishing on the lower middle Usk.






Slow water at Bryn Derwen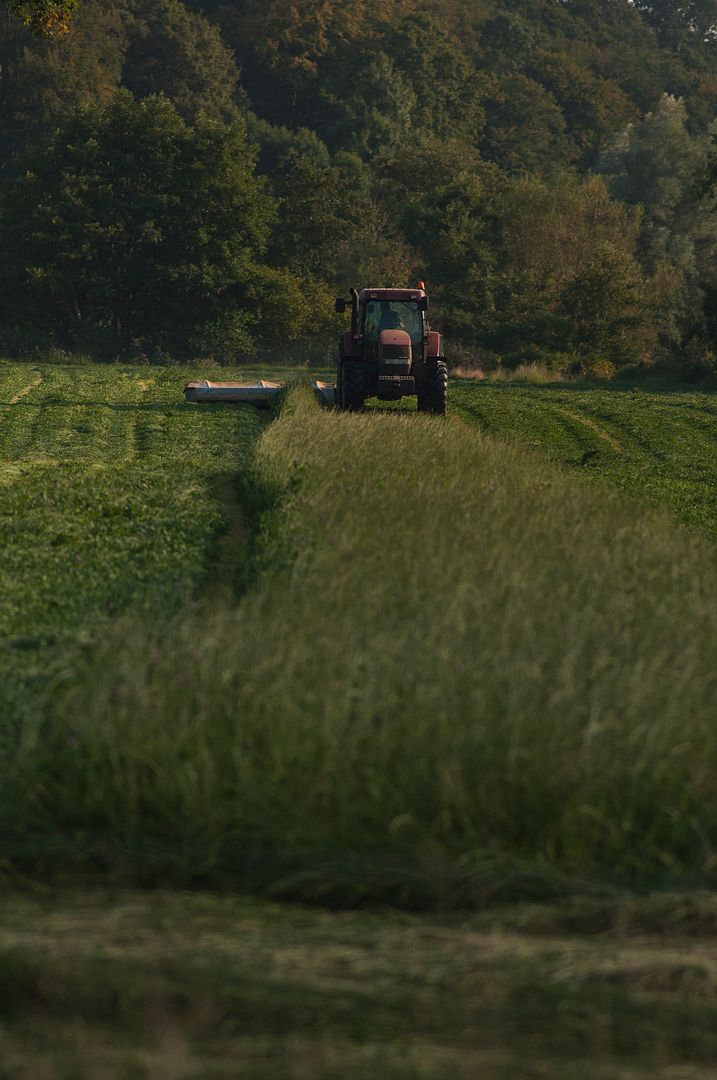 Ken cutting (image: John Poutney)


How did I get here?
It was gone eleven thirty. The air temperature had dropped and I could just make out the daubenton bats surveying the shimmering river. I was up to my waist in water, hoping the twang of an elastic band would dry my glow in the dark fly. There were no rising fish.
Then it hit me: at home there was a nice cold fridge with nice cold beer, and a nice warm bed with a nice warm wife. So then, why the hell was I stood in a river twanging an elastic band?
...........................................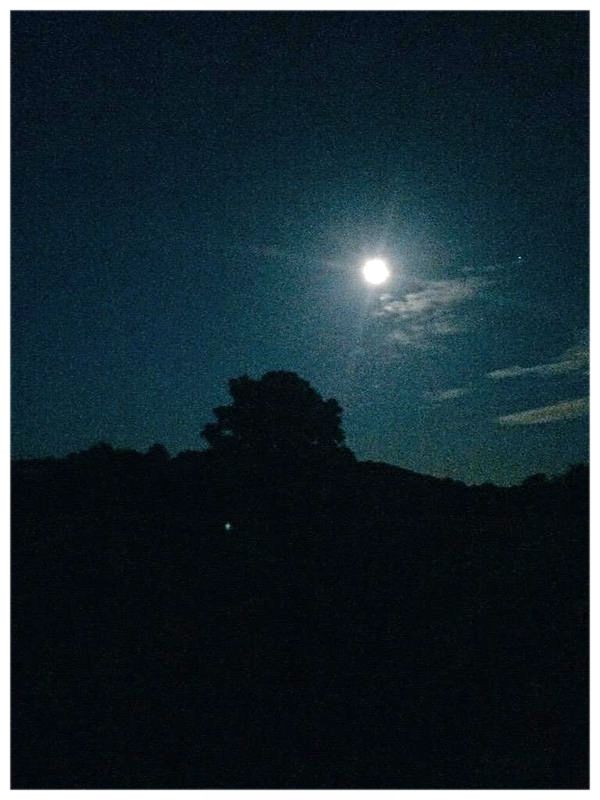 July moon


A significant hatch?
There was a sustained but moderate mayfly hatch that started during the second week of May and continued well into August. By the end of May, there were occasional fish rising throughout the day.
These trout were often selective, targeting the danica and ignoring the sparsely hatching smaller upwings, sedges and terrestrials that were sometimes taken by other fish.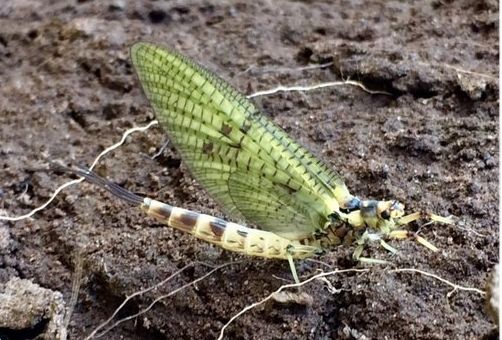 Danica mayfly
While hatching mayfly were observed on warm July afternoons, the largest hatches occurred later in the day with the most intense I witnessed occurring on an early evening during the third week of July.
In the trees - Usk mayfly, 20th July 2015
I took a good number of fish on mayfly spinners, often having to change from my usual B-WO spinner pattern to tempt those responsible for the clearly recognisable rise forms.
Last of the danica spinner feeders, 10th August 2015
I also observed the rare yellow mayfly on four separate occasions, and even saw a small trout take one. This mayfly is only thought to hatch in the Wye and Usk catchments and was once assumed to be lost.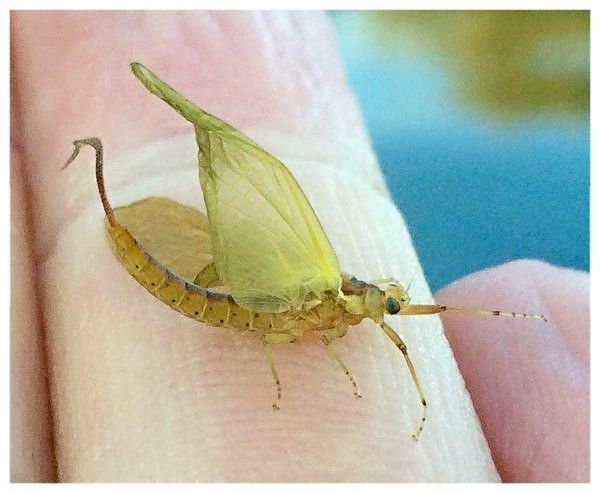 Potamanthus Luteus - River Usk, 25th July, 2015
In summary, the mayfly hatch or spinner fall was rarely intense and not all fish responded enthusiastically, but I certainly benefited from the emerger, dun and spinner patterns in my box.
A significant hatch for the lower middle Usk? Sometimes.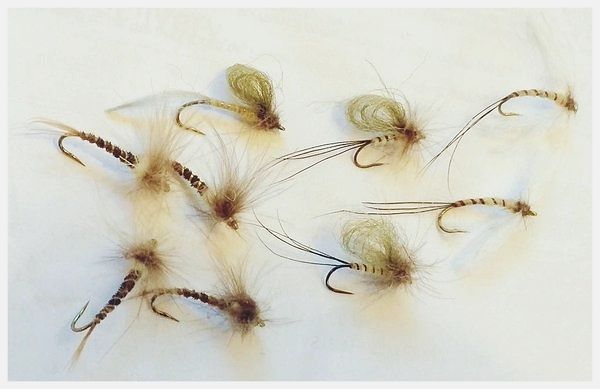 PP mayfly emerger, PP dun and spinner patterns


Blue-Winged Olives
Evening fishing
didn't really get going until the blue-winged olive (B-WO) became abundant in mid June. At that time of year, if the weather suits, I'll be on the river for the last hour. The Streamflex is rarely disassembled, and invariably the dining room is strewn with fishing and tying equipment.
On these late evenings the fish respond enthusiastically to large B-WO spinner falls and, often intense hatches, into the darkness.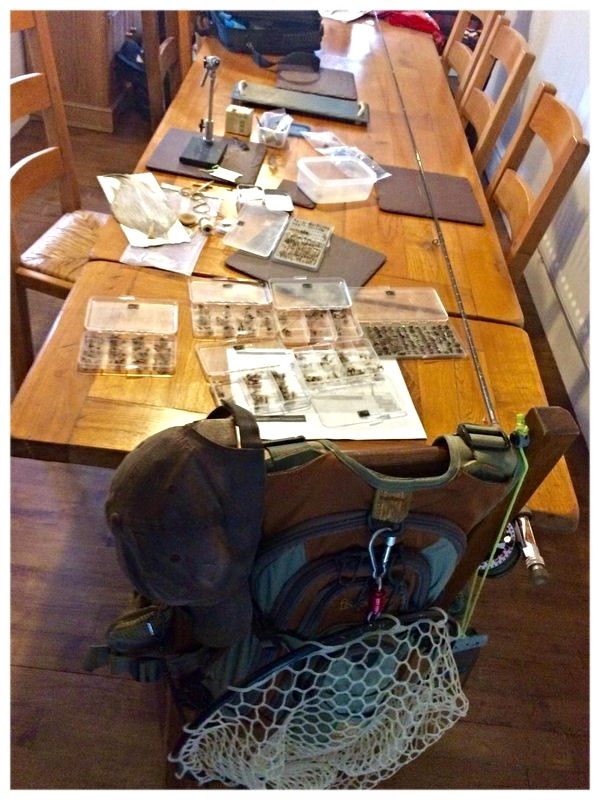 A tolerant wife...
The spinner falls provide some of the best sport to be had in these parts and by the second week in June there were numerous large fish feeding hard.
Dusk trout, 16th June 2015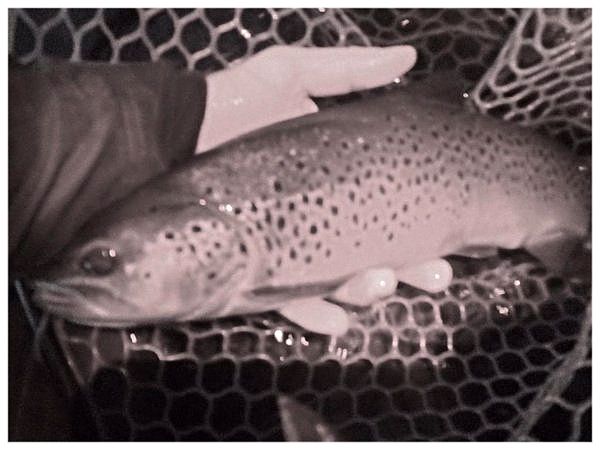 In the dark
On bright sunny days B-WO hatches often start 30 mins before dark and, on a few occasions, were of such intensity that there were flies in my beard and down my neck, and I missed a couple of fish when they flew into my eyes. Invariably the trout switch from the spinners, and emerger and paradun patterns with a
fluorescent green post came in handy.
Hi-viz B-WOs
As the river is usually low this time of year, it is important to play fish hard in order not to exhaust them in the warm water, and the reel drag needs to be set appropriately to cope with long runs in the shallow water.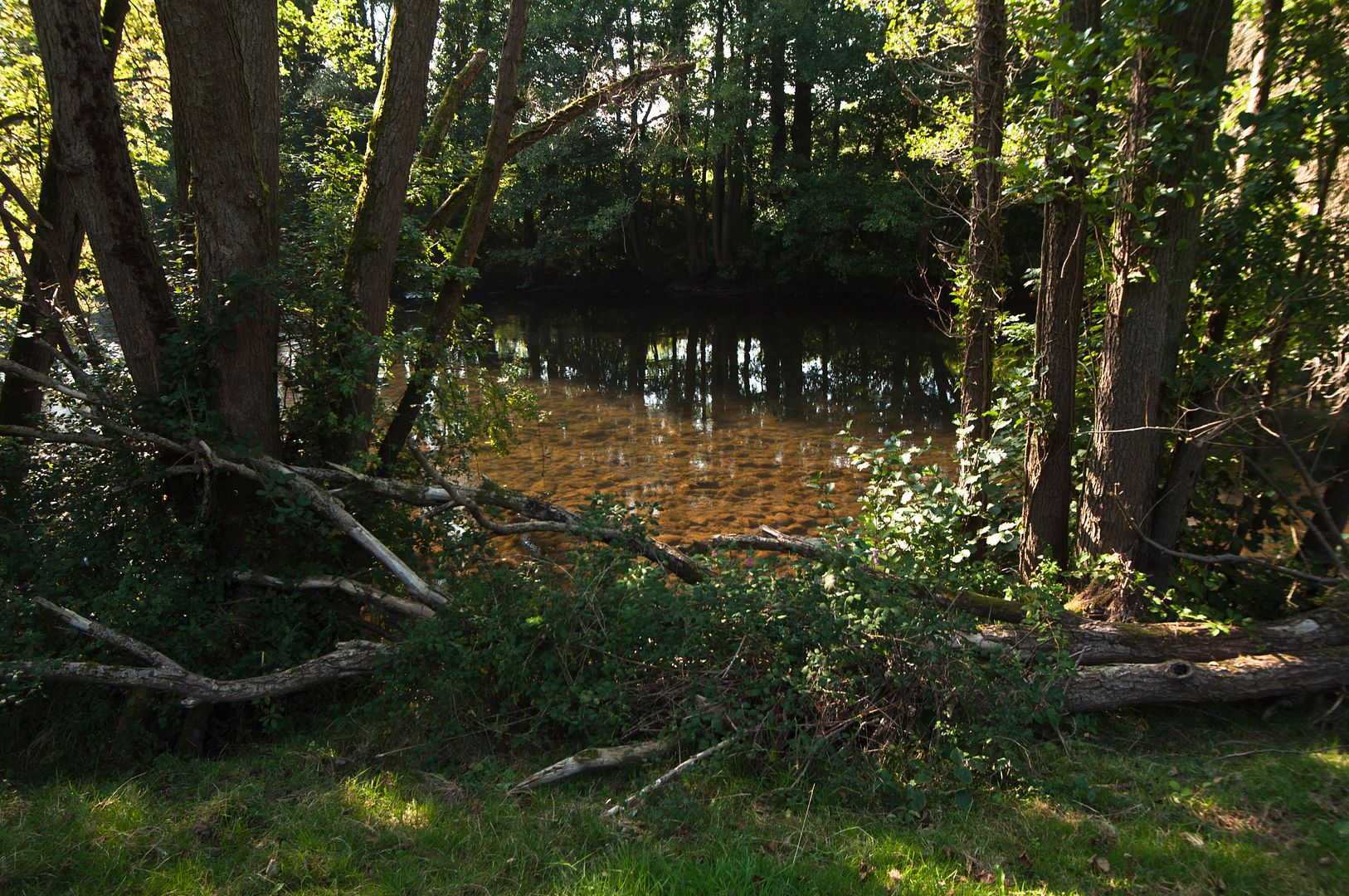 Light and shade
(image: John Poutney)
Fish rarely respond to a spinner pattern with the slightest hint of drag. I use very long leaders (up to 20 foot) with 7X tippets and employ short slack line casts. Casting accuracy, including the distance the fly lands above the feeding fish, is important.
This has been covered many times but, as the fish lie close to the surface, they have a narrow window of vision and do not need to deviate to feed every five seconds or so on the spinners carpeting the river. The further the cast is made above the target, the more likely the fly is to drag by the time it reaches the trout's window. In slower water, I like to tackle spinner feeders square on giving them about two foot 'lead' with large upstream mend. In faster flows, I land the fly closer, often 'high sticking' with no fly line on the water.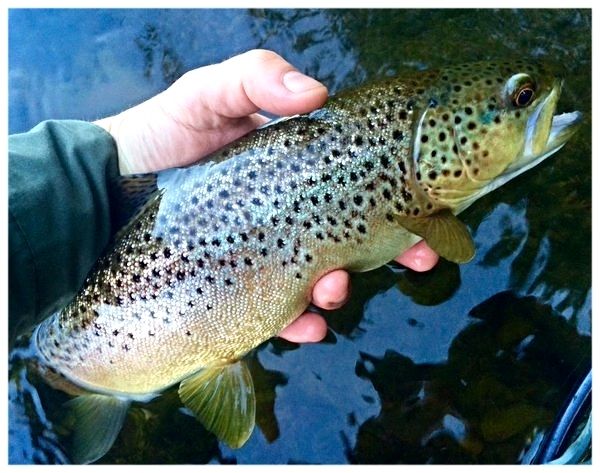 Fast water spinner feeder
I use a few different spinner patterns, although my stock pattern is the fluorescent posted para-spinner that I have seen used by many anglers including Paul Procter and Matt Eastham.
I have also experimented with some success with humpy
, spun CDC winged, curved shank and glow in the dark variants.
Although I have Glen Pointon-type glow in the dark spinners in my box, I rarely find spinner feeders in complete darkness on the Usk. This season I think I'll focus on glow in the dark caddis as I have had some success with both dead drifted and stripped caddis patterns in the midnight hour.
Glow and hi viz spinners
The spun CDC and humpy patterns work well but are less durable than the standard para-spinner.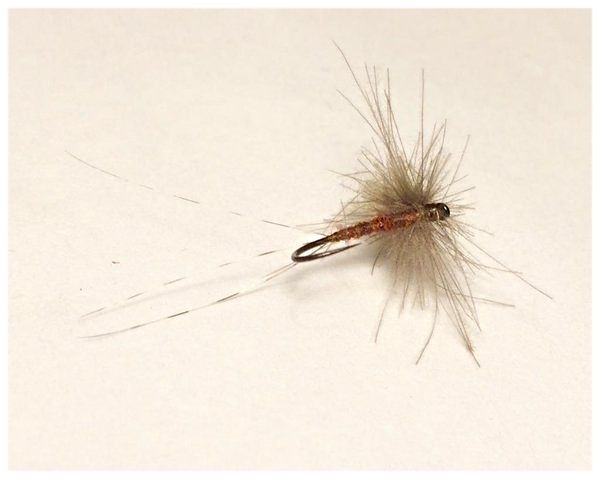 CDC para-spinner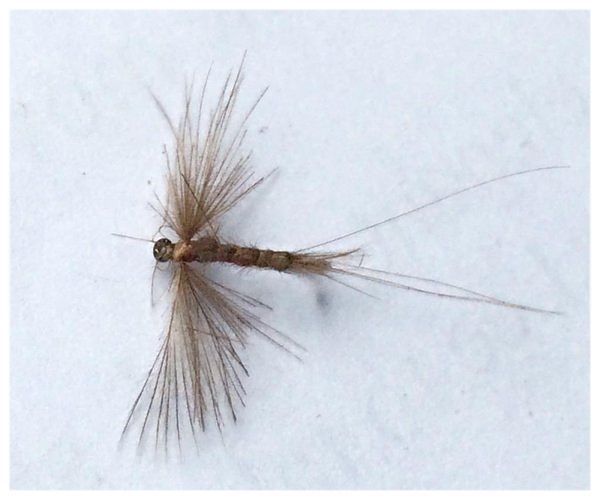 Humpy spinner
I tied curved shank variants after finding that a klinkhammer type emerger, and even a spider pattern, would catch in a spinner fall. Many spent flies are partly submerged in the water's surface and this has been photographed by Matt Eastham and Paul Procter. They also vary significantly in colour, have tails missing and often do not lie in the 'crucifix' position.
Curved shank spinner
Hard earned
To my mind, catching large fish in a spinner fall provides some of the greatest rewards in dry fly fishing. I can recall evenings from years ago where tens of big trout were rising and I trudged home, broken, having caught only a few small fish. Those experiences spurred me on to solve the riddle. It became an obsession where the next evening couldn't come quickly enough and resulted in hours spent on the river in the twilight.
While I haven't completely cracked the code, i
n the main, those deeply frustrating evenings are behind me. Time spent away from cold beer and warm wives has paid off.
I'm always learning but it feels like I'm getting there.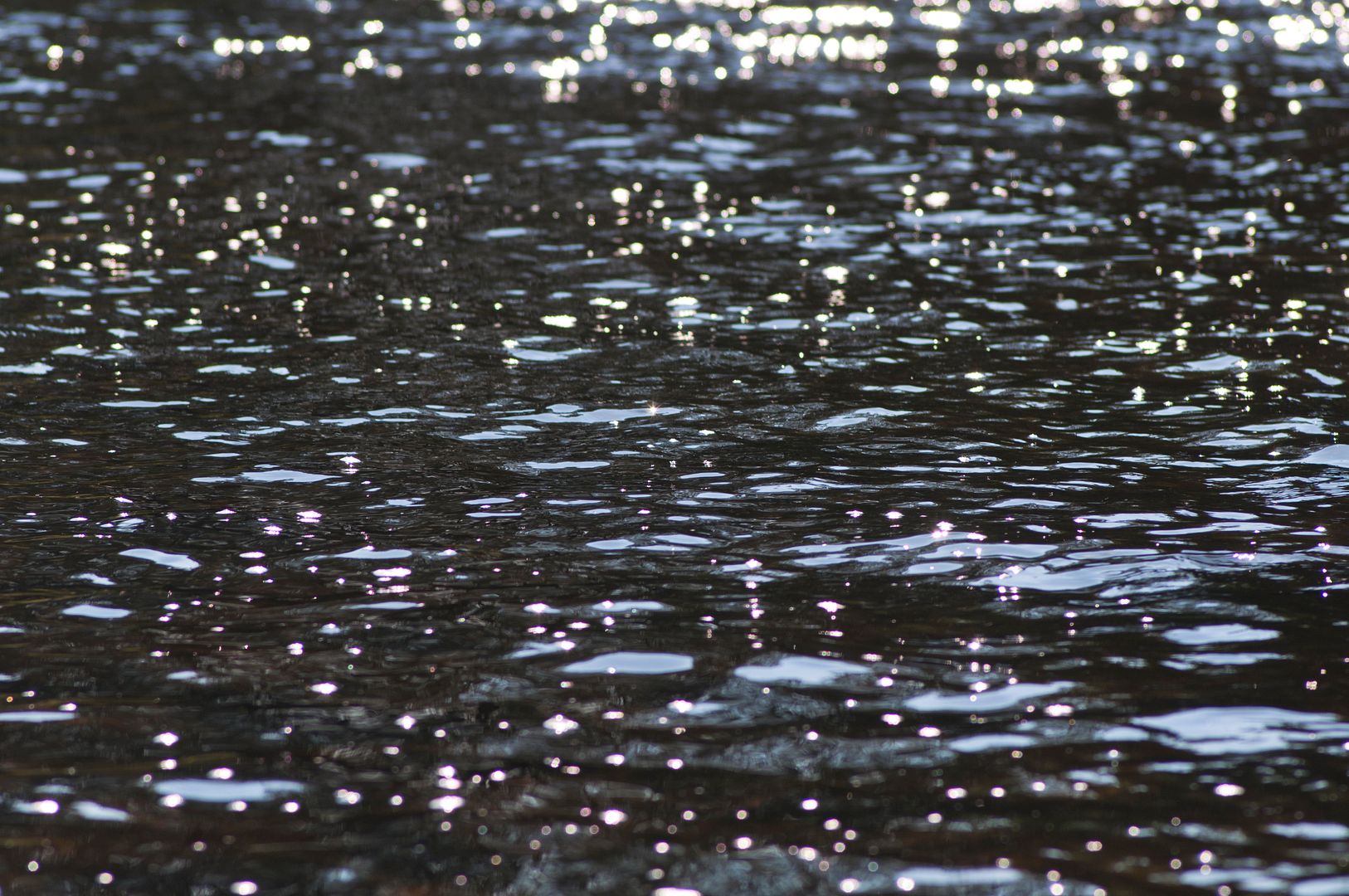 Summer light
(image: John Poutney)