I've not posted a blog entry since August and it's been nagging at me. Since then I have started a demanding new job and my wife has given birth to our daughter. Changing priorities and less spare time have resulted in fewer hours on the river.
During the colder months I only managed to get out a handful of times; to the Frome, a southern chalk stream (that will remain unnamed), the Irfon, the Upper Wye and (of course) the Taff.
Beasts of the Southern Chalk
The first grayling outing of the new season saw me fishing the Frome near Dorchester where Ian Stirling had kindly organised a day for a few us. As trout were still in season we were pleased to land plenty of brownies and quite a few grayling, with a few nudging the two pound mark (including one weighed by Nicholas - not pictured).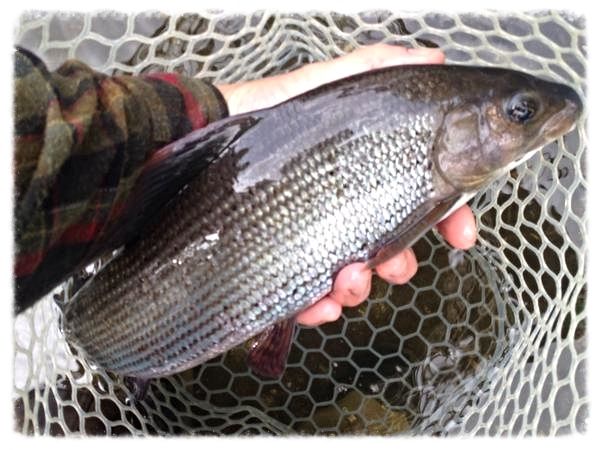 One of the larger fish
Frome grayling
I was in great company. As this was a social occasion we had a memorable lunch, cooked mainly on John Aplin's well used barbecue with a few additions, including what can only be described as 'Ian's Italian Quiche'.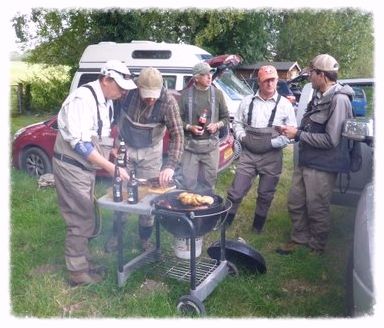 Beasts of the southern chalk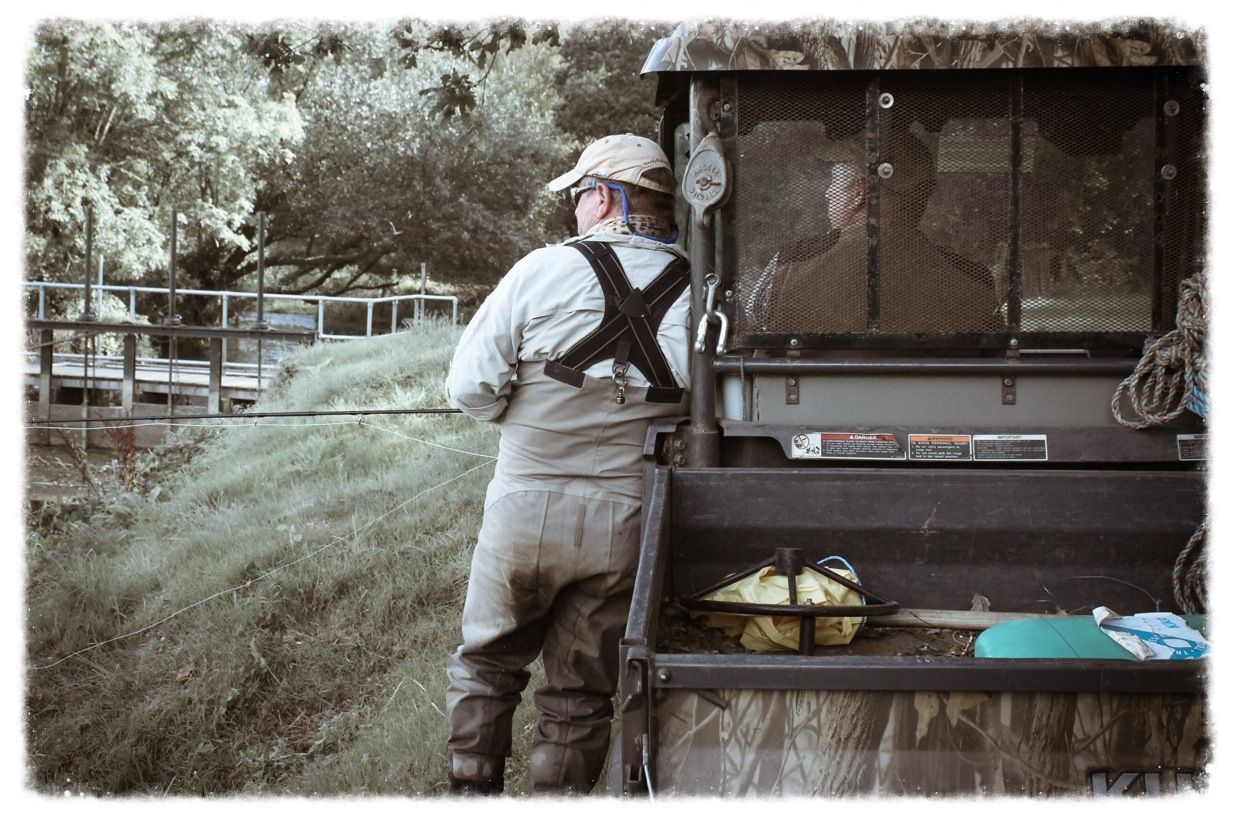 John - pike spotting with the keeper

(courtesy of John Grindle)
The Frome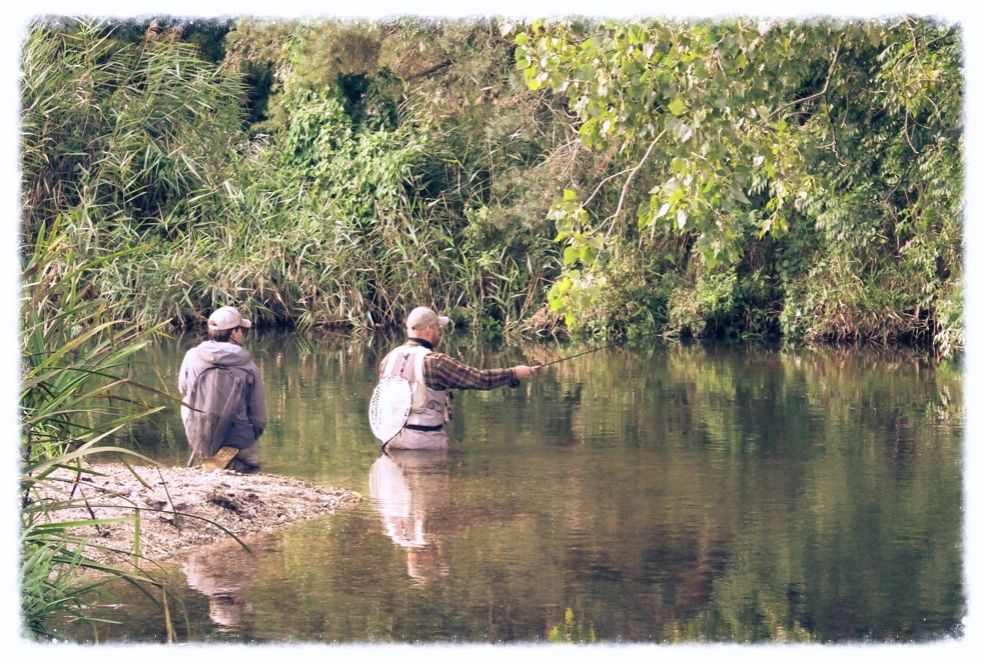 Staying low with Nicholas
(courtesy of John Grindle)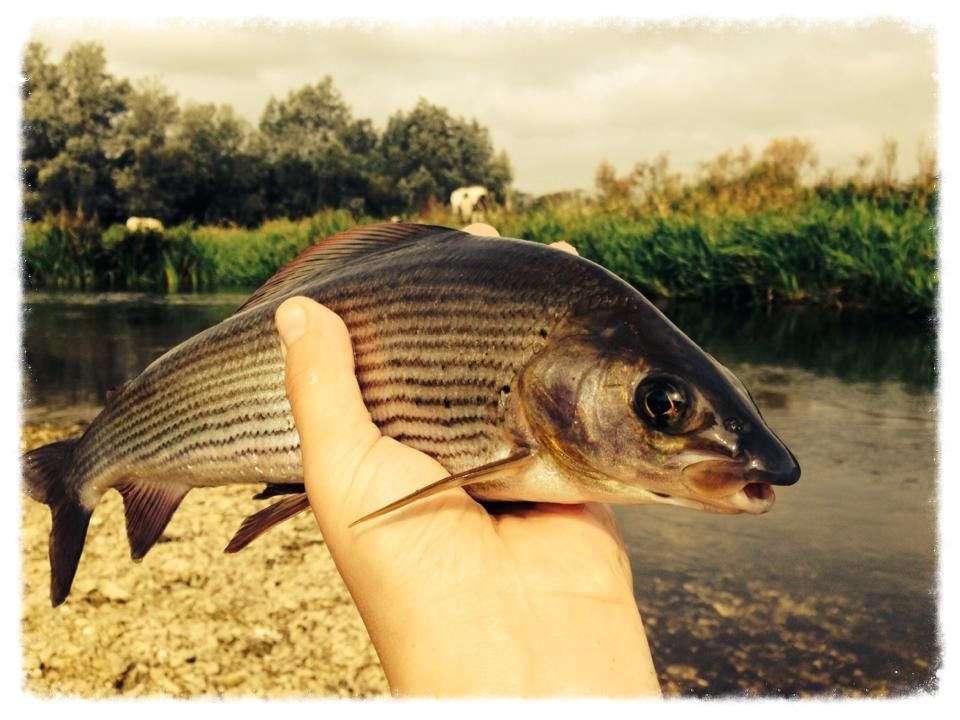 One for Dave

(courtesy of Dave Smith)
It was a lovely day in superb surroundings and I am very grateful to Ian for organising it.
..................................
On the second grayling outing I was the guest of Nicholas on a 'southern chalk stream'. We met at 8.00 am and by 8.30 am (and please don't misunderstand me here) it was
clear that he had taken me to a special place;
I was amazed by the number of fish and, being relatively new to chalk stream fishing, I struggled to spot some of them in the low light. But when I did...
By mid-morning I was transfixed with a particular fish and managed to shuffle (on my knees) off a three foot bank and into the river. As good as the fishing was,
I think that was the highlight of the day for my companion.
Average size
Nicholas with a slim fish
The sport was frantic and we caught many
hard-fighting blue-hued fish, no monsters but a few just over two pounds.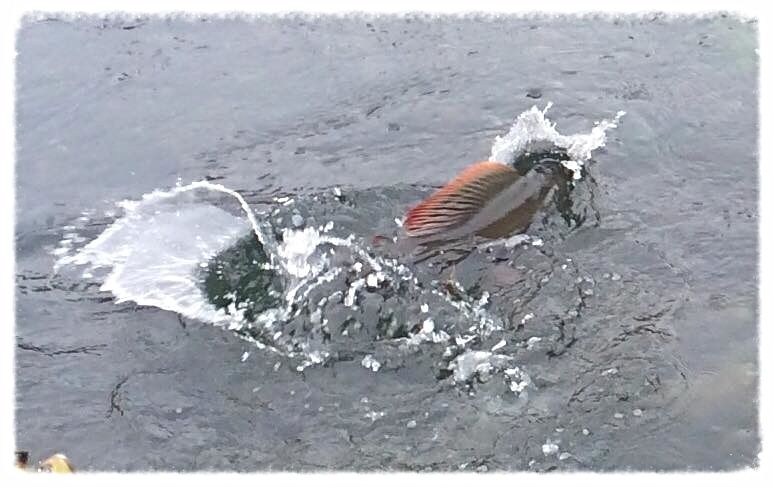 The fight
2lb 2oz
These fish were very special, almost irridescent. Certainly the prettiest grayling I've seen.
Irridescence
The flies that I used on both days were similar to those I employ on the Taff, except for a killer pink, orange and brown shrimp pattern that Nicholas gave me (that rarely left my tippet). The pink butted hare's mask nymph (below) caught my largest fish on each trip.
..................................
Principles
This year I will mainly fish the Bryn Derwen Sporting Syndicate (near my house) and shall retain my Gwent Angling Society (GAS) membership. I am now a bailiff on the GAS Baker's Beat near Chainbridge (a few hundred metres below Bryn Derwen) and hope to find the time to take advantage of some of the other GAS beats.
I have been an on-off member of Merthyr Tydfil Angling Association (MTAA) for over twenty five years. As a schoolboy I took the bus into town to purchase a ticket from Tony Rees' butcher shop. Tony is long retired, but I recall him enthusiastically filling out my ticket and giving me encouragement. It was on MTAA's Taff and Usk beats that I developed my love for river fishing.
With this in mind, it saddens me that I will not be rejoining this year. Members of the club have requested that competitions be held on the Usk; while I do not fish competitions, I have no strong feelings regarding the catch and release events in which many of my friends compete. However, this year's MTAA competitions will encourage any legal method (fly and worm) and, as there will be no controllers (as I understand it), the competitors will have to weigh in up to four dead brown trout at the end. I suspect I will make no friends in the club writing this but I do not believe that a modern angling club should be organising catch and kill competitions on a wild trout fishery.
To put this into context, i
f twenty competitors took eighty fish on the Mardy beat, then I estimate that they may be removing ~10% of the trout population (of takeable size). The fact that this success rate is highly unlikely, makes no difference to the principle and I would be a hypocrite if I retained my membership.
Signs of Spring
This time of year I can often be found walking the River Usk in expectation. (Usually between midday and 2.00 pm), I seek signs of spring and hope to spot hatching flies and rising trout.
As yet, I've seen none. Although last week I thought I spotted a couple of rising fish but it turned out to be two cormorant crapping in the river!
Pesky piscivores
This year I've seen more signs of fish eaters than fish. Over the last few months I've been finding (with a bit of help from my lurcher Nel) trout tails up to over fifty meters from the river.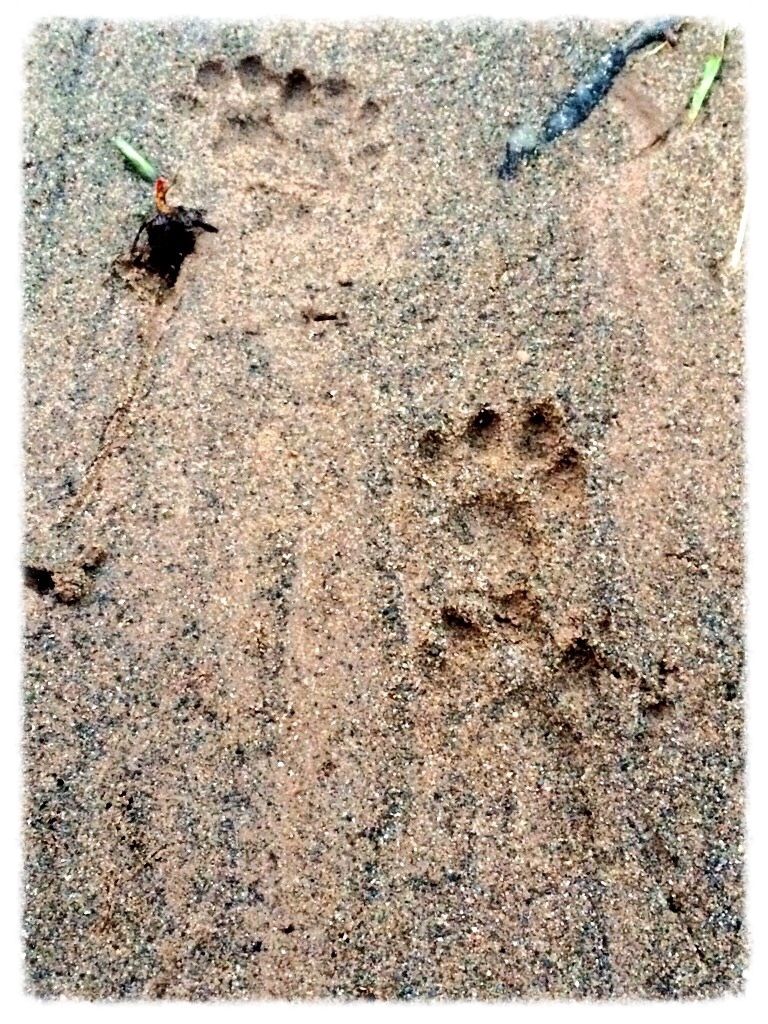 Otter
Expectation also drives industry and I tie most of my flies for the Usk in February and March. The first important hatches on the Usk are the Large Dark Olives (LDO) and March Browns and I imitate various life stages with tried and tested patterns, a few of which are shown below.
UV backed olive emergers
Hook: Size 14 - Kamasan B100
Tail: Coq de Leon
Body: Olive or natural quill
Back: UV blobs tail fixed with a very thin coat of UV cure
Thorax: Hare's mask / pine squirrel / musk rat - mix of natural and olive
Plume: Natural CDC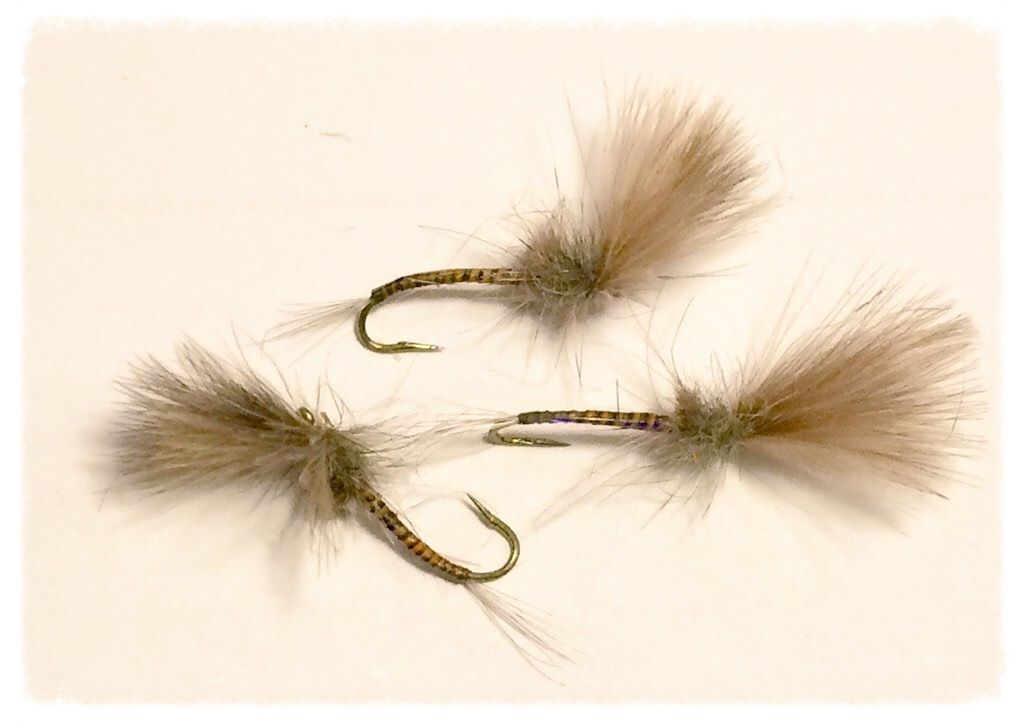 March Brown emergers
Thorax: Hare's mask / pine squirrel / musk rat
Bromwell's big boys
Signs of spring
Thoughts of Summer
Over the long and busy winter months I have been comforted by thoughts of the Usk in summer. As described in my previous entry, spending the last few hours of daylight on the river brought peace of mind.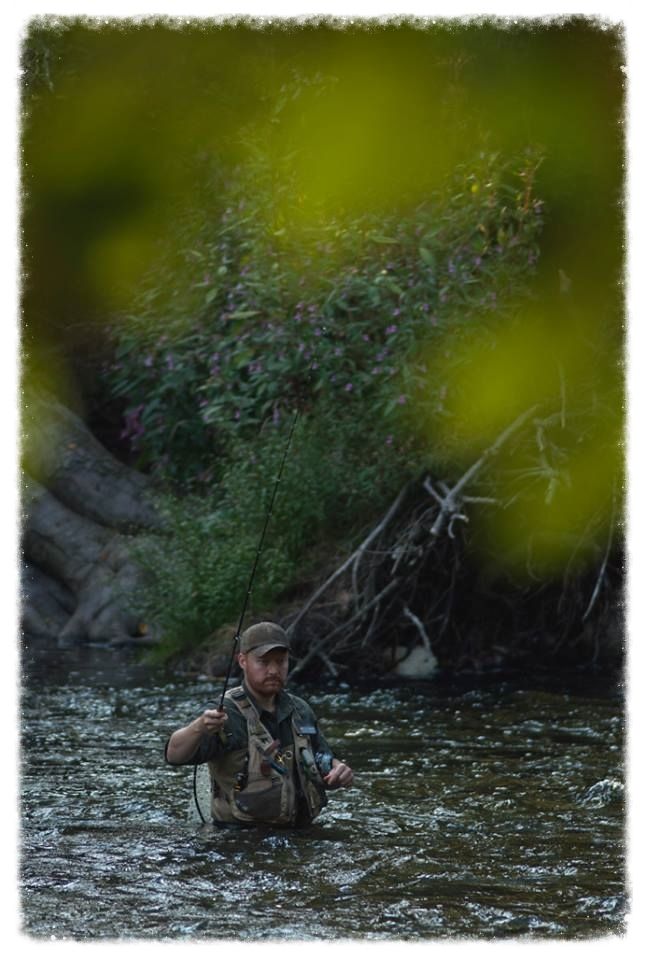 Last summer
(courtesy of Jon Poutney)
Ken's field
2014 - a good year for swans
That time in my life will stay with me and, as the end of summer proper coincided with the birth of my daughter, it seemed only fitting that we name her Hâf (summer in Welsh).
My PB

(courtesy of Jon Poutney)