There was much excitement on my part as I knew weeks ago that two guests would be coming to fish the Usk and, as I counted down, the Met Office App on my phone was under regular scrutiny. As described in my previous entry, it rained heavily on Wednesday afternoon, and for most of the night, so when I awoke to find that the river level had barely risen, it felt like Christmas morning.
Llanover, Llanover Estate - Thursday 11th April
At 9.30am, Pete and I met river keeper (Tim) at Llanover Church Hall and, after a brief tour of the top of the beat, we were fishing. There was the occasional oncer rising to midges, but we agreed that nymphing would be the most effective method until the anticipated large dark olive (LDO) hatch.
As on the previous weekend, the fishing was slow for the first hour but I managed to briefly connect with two very slow, deep takes. A move to a fast run, that deepened into a backwater on the far side, produced another slow offer and the first fish, a fat 14 incher. It fell to a size 12, 3.5mm nickel bead, HE jig that I loosely copied from Terry Bromwell. I was relieved to land the fish early in the day as I hadn't previously fished with Pete and was keen to show what the river had to offer (and that I wasn't a numpty).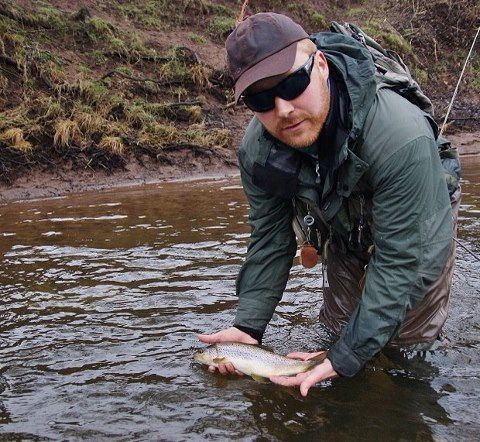 This is a serious business

I cast again into the same spot and hooked and landed another, slightly smaller fish. In this type of run I suspected that the fish may be lined up, perhaps with larger fish in front, and so called Pete over. I looked on appreciatively as, on his third or fourth cast, a large fish slowly took his PTN fished on the dropper. The river's gift to Pete measured 17 inches and kicked very hard back into its lie, before we had the chance of a good photograph. No matter, Pete had caught his largest Usk trout, as denoted by our wide grins.
Later in the day there was a good hatch of LDOs and the fish responded accordingly. We had a few hours of dry fly action that Pete compared to a mayfly hatch on a chalk stream.
Pete is great company and a skilled angler who exudes contagious enthusiasm, not that it was needed today. Over the session (much of which Pete spent taking photographs) we returned approximately 17 fish between us with over half falling to LDO dun imitations.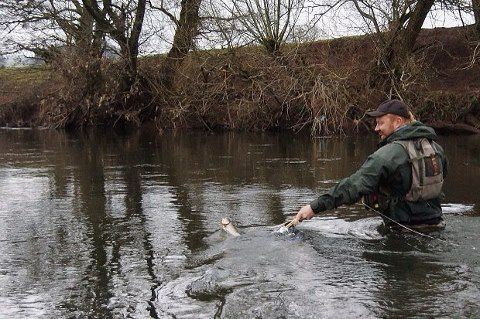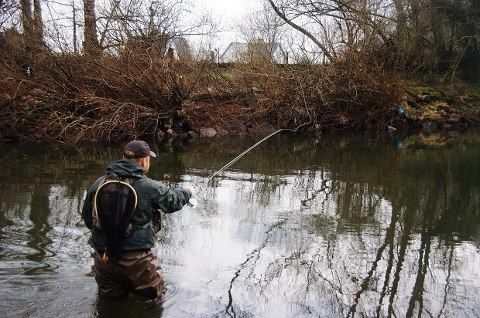 On the way home, I stopped at The Clytha Arms to meet my friend James, who had helped arrange our session on the exclusive beat. I have to admit that I was tempted to buy him a half.
For Pete's version of events see Issue 17, Eat, Sleep, Fish.
Morgan arrived at 5.00pm on the following wet Saturday. I had been tying flies since after breakfast and was looking forward to trying them the following day. But, before we could go fishing we needed to catch up and, as such, were sinking our first pints of HPA in the Black Bear by 7.00pm. My long-suffering wife had 'volunteered' to drive and a couple of pints later we went into Usk for a meal, and a few more.
The next day, it was with two expensive hangovers that we found ourselves on the river. It had rained for much of the night, with long spells forecast for the rest of the day. If Morgan hadn't visited I probably wouldn't have fished the rising river. As he is a fisherman whose skills and attitude I learn from and, over the course of a day regales many
humourous anecdotes, I was keen to stay out for as long as possible.
By 12.00 the water was high and colouring slightly, and Morgan had been snapped by a salmon that thrashed around furiously on the surface after breaking off his nymph. Had the occasional fish not started to rise to sparse flurries of LDOs and (possibly) the occasional March Brown, we would have left.
We walked the banks looking for rising fish but, as the river had become treacherous, none were within reach. When we finally found one that was, it looked like a very good fish. Morgan was changing his set up and so, ever the gentleman, I cast a horizontal slack line with a split thread CDC quill dun on the end.
The fish rose and I tightened with the sound of Morgan's, 'Good fish!' ringing in my ears. I was using a meaty #4-5 weight, but this trout wouldn't be bullied and it was three or four minutes before I slid the net beneath the 19 inch beauty. After a very quick snap on Morgan's phone it was off like a rocket (under the near bank in the spate conditions).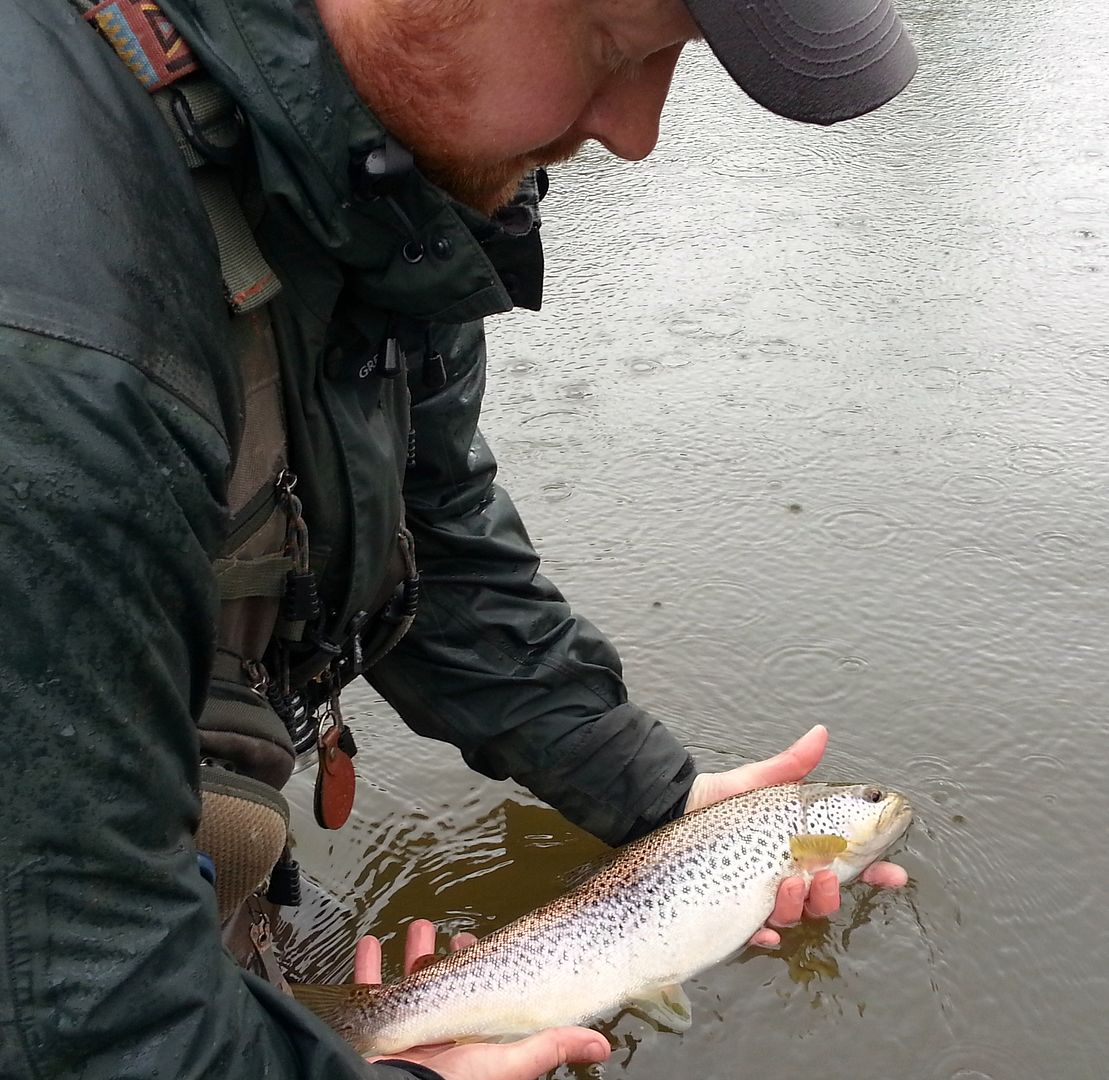 Dry fly fishing in the rain
We found no more rising fish within reach and left by 3.30pm. Later I noted that the gauge had been at 1.2m, a level which I would normally deem too high for salmon fishing.
As I write this, I am on the train travelling back from a meeting on Anglesey. This morning, on the outward journey, I passed over the bottom of the Llanover beat at the same time we were tackling up exactly a week ago. What a difference a week makes!
I have a day off tomorrow and, conditions allowing, will fish the Usk at the Mardy Beat, MTAA with Dan Popp. I've not seen Dan yet this season and am looking forward to catching up.
It also looks likely that we shall be completing on our first house tomorrow. This house is less than half a mile from the Usk, but requires a fair bit of work (and on a tight budget) – a mixed blessing indeed.