Buckets of rain
It was Saturday night and a text from Dan Popp indicated that the lower Taff would be fishable the following day. I needed no persuasion as the local rivers had been in spate since November. We arranged to meet the next morning at nine.
Upon arrival the falling river was still pushing fast and slightly coloured. Further rain was forecast for the afternoon and so we fished relatively quickly through half a mile of water in the hope of finding a shoal.
Conditions dictated that we concentrated on slower water, mainly covering the margins, gentler runs and pools. We caught numerous micro grayling, nothing big, but it didn't matter as I'd not seen Dan since before Christmas and I was happy to be out.
Against the clock
By mid-afternoon, the rain had returned and the river was colouring (we suspected it had been raining heavily higher up the catchment). There was just time for a quick move to a slow deep pool that would provide our best chance of some larger fish.
At the pool Dan went straight to his favourite spot and I entered the river downstream where I caught, and missed, more small grayling on my heavy bugs. The river is currently stuffed with these 4-5 inch fish but, when the water drops back, I expect them to be hammered by the numerous cormorants that we observed perched on wires above the river.
Almost immediately Dan was into a fish of over a pound. Then another, and another. I worked my way upstream hoping to get in on the action. Ever the gentleman, Dan offered me a turn.
One of Dan's
On the f
irst cast I was into what was obviously a large grayling that fought deep and steady. The fish was intent on running downstream and into the main current, but I applied side strain to turn it towards the bank. After a couple of minutes my quarry was steered upstream, along the margins and above my position.
As I pulled the net from my back I caught the appetising whiff of a Sunday roast and could hear the sound of hoovering from a nearby terraced house - a surreal moment. By now Dan was in the river next to me and I told him to bugger off as I was afraid the fish would make a last run towards him. He laughed as he netted the 19 inch grayling. After being
subjected to a few sweary exclamations the fish swam away strongly.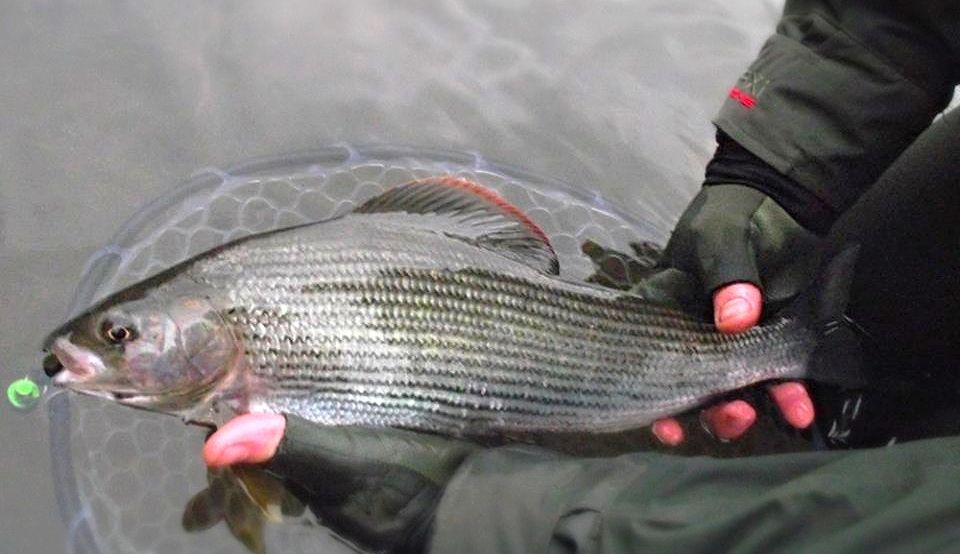 My largest Taff Grayling
Smiling, I patted Dan on the back and made a few casts upriver to calm myself. As I covered the water, I wondered if anyone else had landed a specimen grayling to the smell of warm crackling and the drone of a vacuum cleaner.