What a Difference a Day Makes
Bryn Derwen, River Usk, 12th & 13th April
It was Saturday morning. I had grilled a few cuts of Raglan pig and was relieved when Welsh exile and itinerant angler, Morgan, arrived on time. We had not fished the new beat together and, even though the river was up 15cm and (worse) there was a stiff easterly wind, I was eager to get out.
We had two days and, so rather than just fish a single beat, we drove a mile or so downstream to Llan Farm (GAS water). Upon arrival, the wind funnelled upstream and it was clear I had made a poor choice. A false start.
Back upstream we fished hard until 5pm with only a few fish taken on nymphs. We located no surface feeders and saw very few flies, even in the sheltered spots. The wading on this deep wide beat again proved challenging. The river appeared dead, and we concluded the grannom emergence, that promised much at the end of March, had fizzled out. I was not disheartened as the forecast was far better for the Sunday and the river was dropping fast.
Following more local bacon, and with heads as clear as the spring sky (we must be getting old), we were pleased to be met by still conditions. Immediately, we noticed a few egg laying grannom bouncing on the surface film and were delighted by the sight of a few rising fish.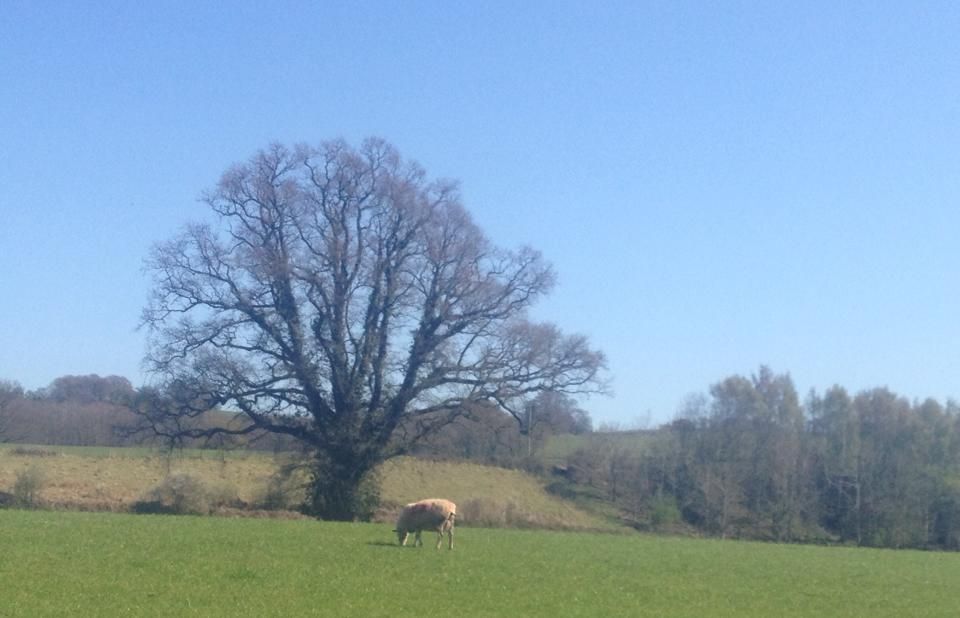 A better day
We assumed they were feeding on the spent sedge and selected size 16 split wing CDC and Elk patterns.

As fish were again feeding on the far bank, t

o achieve successful presentation we had to wade deep and cast long; a large upstream aerial mend and a sixteen foot leader helped to achieve the essential drag free drift. When the cast was timed correctly and the presentation spot on the fish accepted our flies and we caught most of those we targeted.

17 inch Bryn Derwen trout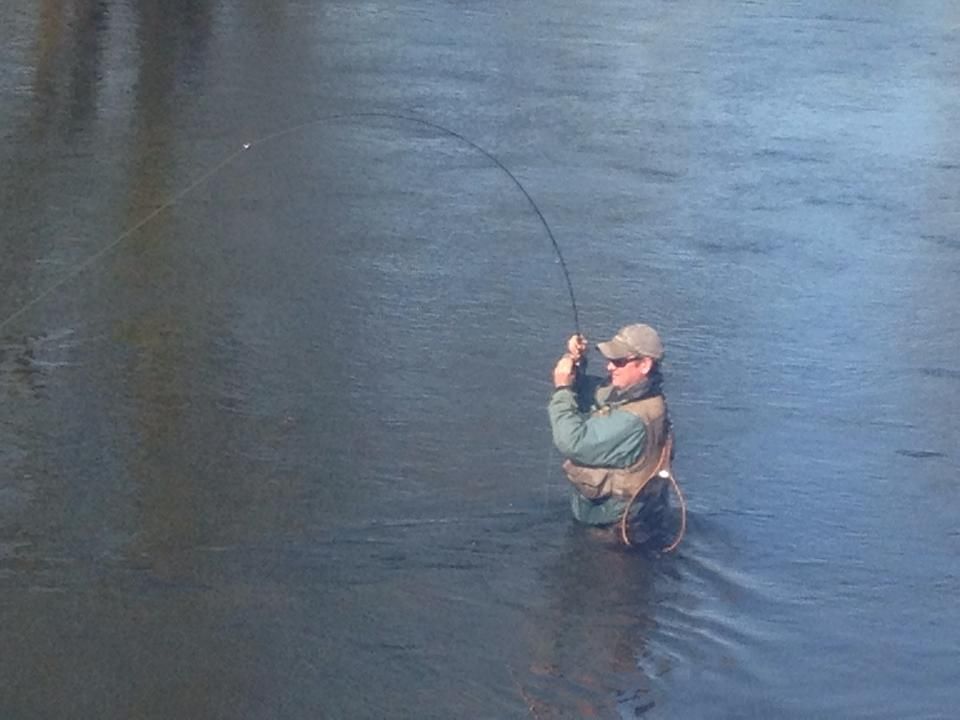 Deep wading reaps rewards
Morgan is a purist at heart and I was pleased that he had some top of the water sport in the peaceful surroundings before his two hour drive back to the rush of the City where they 'don't have weather'.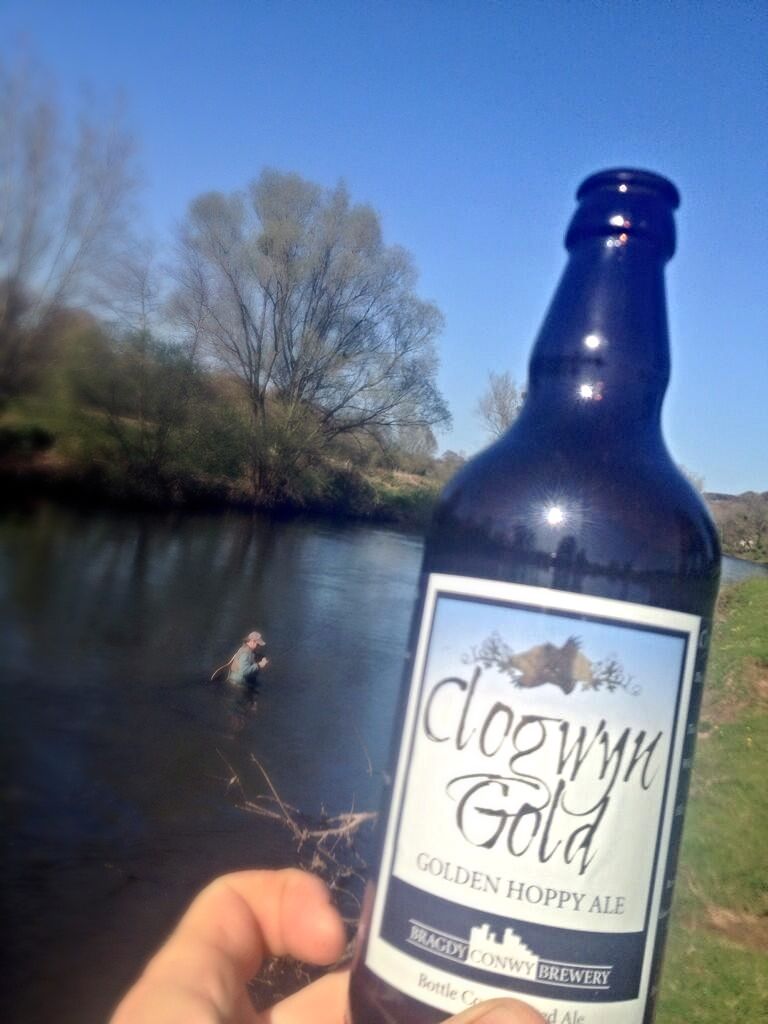 Spectator sport
The Leviathan
Upper Taff, 26th April
Dan arrived for breakfast at mine (more pig) before we planned to fish the Usk. I was worried due to the previous day's rain. As we walked, river bound, through protective ewes and curious lambs, I could make out the reddish brown water. Another false start.
Retracing Dan's journey, we arrived at the elevated and slightly stained Upper Taff at 10.30 and elected to fish duo tactics with small silver and copper bead PTNs on the dink. This was my first time on this part of the Taff this season and I was excited by the prospect of the eighteen inch plus fish that we often spot in the shallow river.
We worked our way upstream taking it in turns to fish through the runs, with both of us catching four or five fish to nymphs. The river had changed over the wet winter and there was a strong and gusty southerly wind that I thought would kill any top of the water sport.
Upper Taff trout
At a favoured long, slow pool the recently arrived house martins were hammering a big hatch of Large Dark Olives (LDOs) and Large Brook Duns (LBDs); a superb site in these urban surroundings. Dan nodded at the river – 'here we go butty'.
I know no one that understands this piece of water like Dan. He is an instinctive angler and can spot and catch Upper Taff trout in water that most would walk past (or wade through). Just as Morgan was my guest at Bryn Derwen, I was Dan's there.
We started fishing LDO (emerger and then dun) patterns and caught a few to fifteen inches. We missed only one that I put down when the wind caught my line. Frustrated, I stood and waited until Dan beckoned from further up. In the fast water above the pool, LBDs were hatching in abundance and we needed to change patterns.
Before and after - Large Brook Dun nymph and sub-imago

Large Brook Duns
Hook: Size 14 - Hanak H 130 BL
Tail: Moose mane
Body: Golden olive quill or light hare's mask ribbed with brown Hends body quill
Thorax: Darker Hare's mask with guard hairs
Wing: CDC
Dan gave me one of his LBD patterns (see similar above). We targeted feeding fish that were on the fin traversing the shallow, clearing river. When fish and fly coincided, we connected. These fish were in superb condition and Dan caught the largest at eighteen inches.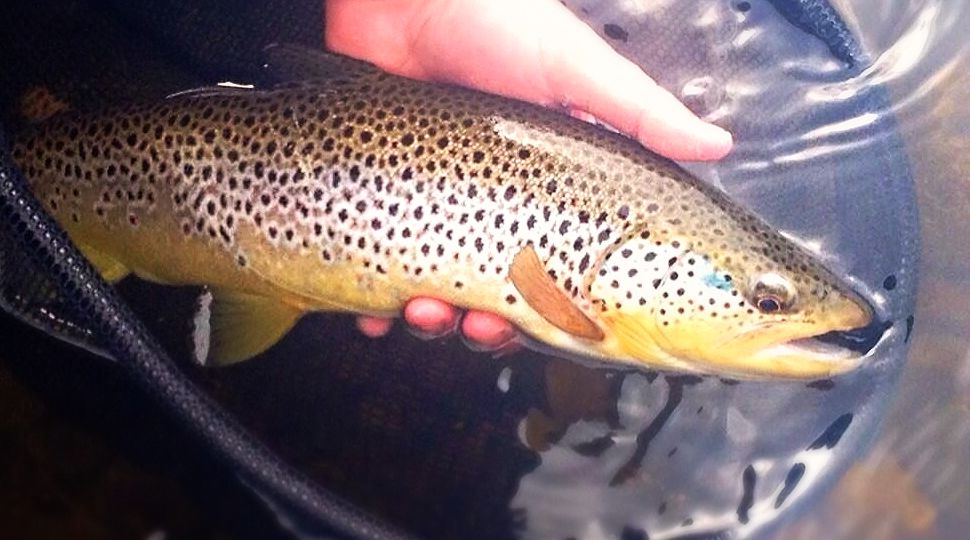 18 inch Taff trout
Another to the LBD imitation
We continued to another deep pool, spotting a good trout, I covered, hooked and landed it. It was a wild late afternoon with driving rain and howling wind. We were nearly ready to go home but I elected to have a few last casts with a nymph. As I changed my fly, Dan commented that he could make out the movement of a fish lying deep.
He was right, and it took my size 18 silver bead flashback PTN first cast. For a second it felt like the bottom, 'Big fish butt!' I shouted, then all Hell broke loose.
It was a monster brown trout that tail walked and then jumped three times. I swore repeatedly as the fish ran to every snag in the pool, then at me, then at Dan who turned to laugh at the bend in my rod (and the look on my face). In what must have been a comical scene for passing motorists, I bellowed over the wind (melodramatically),
'It's going to pop!' With one hand on the handle and the other on the blank, I kept the rod high and applied side strain as smoothly as my shaking hands would allow. During the 'jumping phase' I had noted that the fly was visible in the fish's mouth but now Dan, who was in the water waving my net, had some unwelcome news.
'I don't want to worry you, but the fly is now in his back'. I suspect it dislodged, and relocated, on the last jump and felt sorry this was no longer to be a fair catch. I still wanted my picture with the bugger though and so, with pulse booming in temple, did my best to pump the rod and bring it over my inadequate net. There may have been a split-second opportunity for a lunge (I doubt it would have worked), after which the angry trout ran hard towards a boulder and the fly worked free. As he saw it for longer than me, I asked Dan,
'How big?'
'It was a leviathan!' was all he would say.
On the walk back to the car we made determined noises about 'getting him again'.
Like a Pig
This April, the local rivers didn't disappoint and from what I've seen and heard from others, some quality fishing was had throughout Wales (particularly on the Upper Wye and Usk). I've recently seen a few Usk Yellow May Duns and Mayfly; with these hatches to look forward to, and the river on my doorstep, I'm (as a neighbour recently joked to my wife) 'like a pig in shit'.