It was a warm June Sunday afternoon and I'd been toying with the idea of going to the pub for a few pints of perry (as I thought the river was still too high and coloured to fish after the recent rain). Whilst walking my lurcher along the river in Usk, it became apparent that I was wrong and that the colour was dropping out nicely.
I returned home, called in my booking for the Ysbytty beat, and excused the wife from her pub taxi duty. It was five o'clock and I promised to be home by eight.
The Ysbytty or Chicken Factory beat belongs to Merthyr Tydfil Angling Association and, during the season, I probably fish it once a fortnight. I can cover the holding spots comfortably in a few hours and it is fished less than the other MTAA beats.
By five thirty I was on the bank rigging up my fourteen foot #9 Greys XF2 T series with a Hardy Mach 55 floating line and fast sinking 5ft poly leader, to which I looped 6 foot of 15lb Seaguar Ace and tied on a size 10 double Ally's Shrimp.

Tail: A few strands of orange crystal hair over fire orange bucktail
Tag: Silver oval or wire (I've used wire as I often snap oval)
Body - back half: Fluorescent orange floss (I've used glo brite)
Body - front half: Black floss
Rib: Silver oval or wire
Underwing: Natural squirrel (cloaked)
Wing: Dyed orange golden pheasant tippet
Hackle: Orange cock
I hastily made my way to the bottom of the beat and fished through a good run varying the angle, speed and depth of my fly. I then fished back up the run with no success. After changing to a heavier fly, I also fished fruitlessly through the
next deep pool.
I wasn't too disheartened by the lack of action as I was saving the best water until last; there was plenty of time left to fish the head of a long slow glide (back at the top end of the beat) where the fish lie behind a horizontal line of large boulders.
I changed back to the size 10 salar double Ally's, waded in quietly and cast a fourty five degree angle across the flow. A single upstream mend and my fly was swimming at what felt like the right speed. A few casts (and steps) later, I was over the prime area and had the feeling that I was in with a shout. Expectantly, I cast, mended the line and fished the fly around. Nothing. Remaining in position, I again cast to the opposite bank and put in a larger mend. As the line started to swing around and swim the fly, it tightened. One 'Mae Hen Wlad Fy Nhadau' later and I lifted into what felt like a good fish. 'Please don't be a trout!' I uttered under my breath.
It very quickly became apparent that this was no trout and within five minutes I managed to slip the gye net under a 33 inch silver hen salmon. After unhooking and supporting the fish for a minute or so in the flow, it swam away strongly. I left the river ecstatic with my first fish of the season (and arived home in time for my tea).
Apologies for the quality of the fish pictures in this entry, but I try to be careful and quick when handling and returning salmon and sea trout.
33 inch Ysbytty Beat hen salmon being returned
Money well spent
I have pursued Usk salmon for a number of seasons; at first very unsuccessfully with a single handed rod (although I caught some big trout) and then, mainly unsuccessfully with a double handed rod.
Initially I taught myself double handed casting, often watching others on the river bank. I am now in no doubt that this was a mistake and I am still trying to shake off many of the bad habits that I picked up whilst splashing away on the Usk.
Three seasons ago I admitted that I needed to pay for some lessons and arranged a session with Mark Roberts of Gwent Angling Society. Then came the realisation that I had to start again and completely remodel my top hand dominant action. Mark invited me to the Gwent Angling casting clinics that he hosted over the summer months along with Alun Rees, Chris Price, Gareth Lewis and others. These proved invaluable and I quickly improved
.
If I could give any advice to a beginner it would be to take lessons and, even though I am now relatively proficient with the double hander, I still attend casting clinics whenever I can.

On the Kemmeys beat of the Usk, probably using too much top hand on a snap C cast
MTAA statistics
I caught (and released) 2 Usk salmon in 2012. The above fish is one of 13 salmon caught on the Ysbytty beat, one of 5 to the fly, in 160 member visits (averaging 12 member visits per fish).
The average across the three MTAA Usk beats was just under 10 visits per fish, with 92 salmon and 3 seatrout caught. The reported catch and release rate was 64%.
In a good year for salmon on the Usk, the visit numbers per fish indicate why catches are so highly valued.
I had originally booked this beat for my birthday at the start of May but the river was too high to fish. Our summer was so wet that every time the day was rearranged it was washed off. Sod's law dictated that on the September Friday I finally managed to get out on the WUF water, the river was at the summer low level. I was also greeted by a stiff northerly breeze, but the birds were singing and I felt confident on this relatively prolific beat.
I was using my fourteen footer with a floating line, slow sinking polyleader and a size 12 double Bann Special Shrimp variant (similar to the Usk Grub).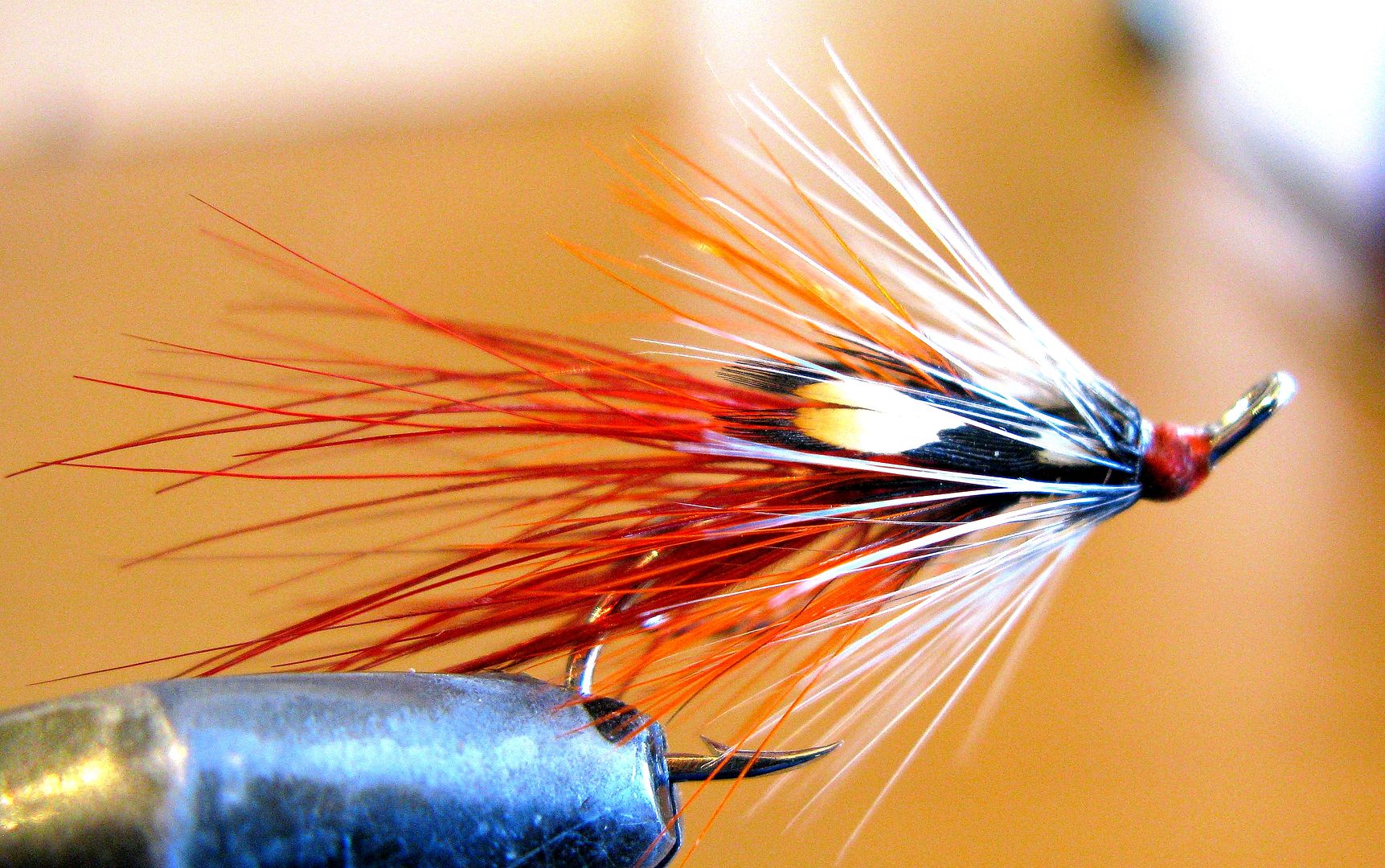 Bann Special Shrimp
Hook: Partridge salar double or Ken Sawada low water salmon 8-12




Thread: Red




Tag: Silver oval or wire




Tail: Red g

olden pheasant breast feather


Rear Body: Orange

floss
Rib:

Silver wire


Mid Hackle:

Hot orange cock (I've used dyed badger)


Front Body:

Black floss


Cheeks:

Jungle cock


Front Hackle:

Badger cock
I started at the Rock Pool, a prime spot. On the third or fourth cast, the line stopped suddenly as I felt the take of a good salmon. I lifted the the rod and the fish was on. For two minutes I varied the angle of pressure until the 32 inch hen was bullied, head up, over the net. Salmon fishing was easy after all!
As soon as the fish was back in the current I tried to take a better picture with my iPhone; I am clueless with modern gadgets and, unknowingly, the device was in filming mode, so caught a little footage of the release before it went back into my pocket. When in my jacket, the phone continued to record and you can hear the fish kicking strongly over my dodgy heavy breathing. You also hear me let out an embarrassing celebratory cheer when the fish swims off (after less than a minute). See below:
I spent a few more enjoyable hours covering the short beat with the double hander but, after lunch, I fished for trout. I caught around twenty fish on the duo method, with half of them taking the olive klink variant (featured in my previous entry) and the others a size 18 PTN jig. Most were under 10 inches but provided great sport on my #3 weight.
At the end of the day, I went directly to meet my wife for a meal in the
Black Bear
at Bettws Newydd (less than a mile up the road from the beat, and a pub that we regularly frequent). I spent most of the evening talking with the other locals (many of whom are fishemen) about the river over a few pints of
Wye Valley HPA
. The perfect end to a superb day on the Usk.