June 2012
'There's no fucking fish in there!' Barked a woman in her forties as she strutted up the pavement.
'You're a rubbish fisherman!' Shouted a teenager from a passing car window as he threw a bread roll and the driver tooted the horn. My friend Dan responded with a two fingered salute, I put my hood up in case I saw anyone I knew.
Later,
another hilarious fellow would shout (from a packed minibus),
'I'm coming back with my maggots tonight!' Much to the amusement of his drinking buddies on the bus.
We were fishing near Merthyr Tydfil town centre on a Saturday afternoon in June and the fish were concentrated on the far edge of a slow shallow pool, feeding on large dark olive duns. There were several splashy rises from smaller fish interspersed with the tell tale sips of larger more efficient feeders.
I was using my 11ft #3 weight rod, employing leader to hand tactics with an olive klinkhammer type fly. After watching Dan return a couple of good sized trout -and landing a decent fish of my own- I noticed a small sip further out into the pool (about 8 metres directly opposite me). The fish lay in less than 1.5 metres of water and rose every minute or so. Not risking spooking the target in the shallow clear water, I remained in the same spot. Ideally I would have moved downstream, but it is far easier to ensure drag free drift for longer using leader to hand techniques, so this was not critical.
Another rise, I waited until what felt like the right moment and cast well upstream of where the dimpled rise form had been. Nothing. Then, another small rise to a beatis dun, accompanied by that barely audible sound. I waited a little longer this time and made my second cast, a tiny sip and (yes!) the fish was on. After a few strong runs and a very brief photo opportunity, this slim early summer fish was safely returned.
Caught near Merthyr town centre
This is typical of how the summer fishing on the Taff unfolded. I often accompanied Dan (an almost ever-present figure on the upper river), surface feeding fish could usually be located and I experimented with leader to hand techniques (with varying degrees of success).
A reluctant reintroduction
I first became a member of Merthyr Tydfil Angling Association in 1986 and have been an on-off member ever since. I have retained constant membership for the the last ten years, but in this time, I have concentrated on fishing club beats on the Usk and Talybont Reservoir. Prior to last year, I hadn't ventured onto the upper Taff since before I left home, aged eighteen.
This all changed in April last season when I bumped into the aforementioned MTAA member Dan Popp on the Mardy beat of the Usk. Being someone that has always enjoyed peace and quiet when fishing, I was sceptical when Dan asked if I wanted to join him on Merthyr Town water for a day on the following weekend. Despite the excellent reports (two pounders are very common on the Taff), I was dubious that I'd enjoy myself in the cluttered urban surroundings.
I recalled fishing there as a boy and catching plenty of fish on the only five patterns in my box: Grey dusters, dry pheasant tails, partridge and orange spiders, pheasant tail nymphs and gold ribbed hare's ear nymphs. I also remembered plastic bags, old settees, being threatened by someone with a hammer and wondering what all the submerged sanitary towels were. It was against my better judgement that I agreed to meet Dan in the car park of the local leisure centre on the following Saturday in the third week of April.
The river
The Taff has spluttered its way from the north of the Merthyr valley down grade to Cardiff through two centuries of heavy industry. For a long time much of the river was rendered
unfishable; Tony Rees MBE (the chairman of Merthyr Angling Association)

once wrote a letter to the chairman of Welsh Water requesting miners' lamps for the fish in order that they could find their way up river, such was the extent of the pollution. Since the decline of the industry, the river continues to recover.
Management is minimal. It is stocked with several thousand fish annually, poached extensively, its mouth is barraged, there are numerous sewage outfalls, mink and cormorant abound and yet in many ways, the river thrives. Aquatic life is prolific and the upwing hatches can be huge. This is no doubt attributed to the improved water quality resulting from the industrial decline and absence of diffuse agricultural pollution. Fifteen years ago, the Morlais Brook tributary in Merthyr Tydfil was dubbed by Environment Agency staff as the most polluted stream in Wales.
'There were toilets flushing directly into it. It was like Calcutta', an ex EA officer once told me. This year, trout have been recorded spawning at the confluence.

 

Stockies
The debate often rages on the Taff thread on Fly Fishing Forums as to which image is of a grown on stocked fish or a wild brown trout. Some of you reading this may suspect that the fish pictured here are grown on stockies. For me, this is not a significant issue. The trout fought superbly, were feeding naturally when I caught them (on methods I enjoy) and I have fond memories. That's all that matters to me. I have no reason to think they are stocked but I'll admit that unless a fish has been introduced in the season I catch it, or it has stunted or damaged fins, I am unsure as to whether I could identify it as a stocked fish.
September 2012
It was early September and I had taken the day off work. Dan and I met near Merthyr Tydfil in the early afternoon. It was a muggy day and the fishing was slower than usual, but by early evening blue winged olive spinners danced in the air, many complete with egg sacks.

As there was little surface activity I was using the duo method and Dan his favoured French leader. We caught some decent fish on pheasant tail nymphs and I had a few smaller fish to Dan's favourite olive klink variant. All season we had caught well on this fly (on the Taff and the Usk) but I had been trying to tweak it; changing to a dubbed thorax instead of peacock, a pearly rib, a more neutral coloured post, a different hook. But I couldn't improve upon the catch rate of Dan's version and I am reminded of the adage, 'if it ain't broke'...

Dan's Olive Klink
Hook: Kamasan B100
Post: Light pink aerodry
Body: Light olive dubbing
Rib: Olive tying thread
Thorax: Peacock herl
Hackle: Light blue dun
By seven o'clock we had (intentionally) worked our way up to a pool that usually holds a good number of surface feeders and we were greeted by a few fish rising to what I assumed where the spent BWOs.
Off came the nymph and klink and on went a yellow single plume tip, then a yellow quill spinner, then a red quill spinner. For over an hour I caught smaller fish on all of these flies, but the large fish -that I could see rising- ignored my offerings. Meanwhile, further down the pool, Dan had a caught a fish that weighed over 2lb on his favourite fly.
In the fading light (when I could no longer see many of the rising fish) -it is likely that I'd put a few of them down- on went the klink. As darkness set in I could just make out a regular rise by the light of a streetlamp. I covered the fish and, sip, there it was (tinged in sulphur yellow). This well conditioned fish made four or five powerful runs before a few last gasp lunges saw it into the net. I don't normally weigh and measure fish, but I very carefully did this, as Dan and I disagreed on its size. (I'd underestimated and Dan turned out to be correct). I'd be interested to know how long and heavy any readers of this think the fish below is.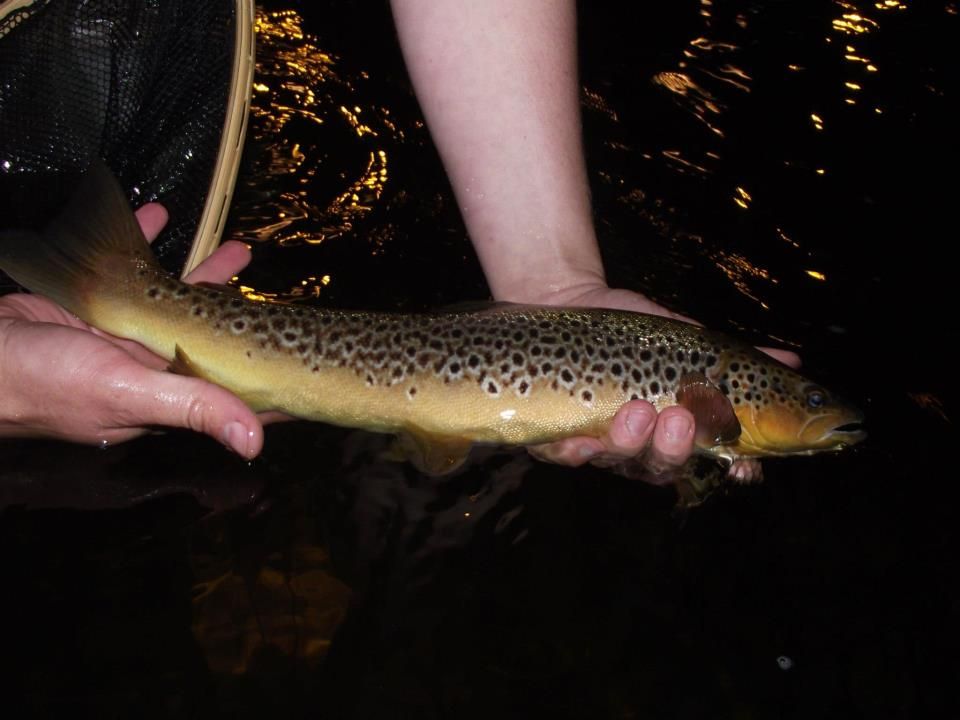 Last cast trout
A river of contradictions
The Taff is a river of contradictions; dirty but clean, urban yet wild, neglected and thriving. An ugly lovely river favoured by many, but not for everyone.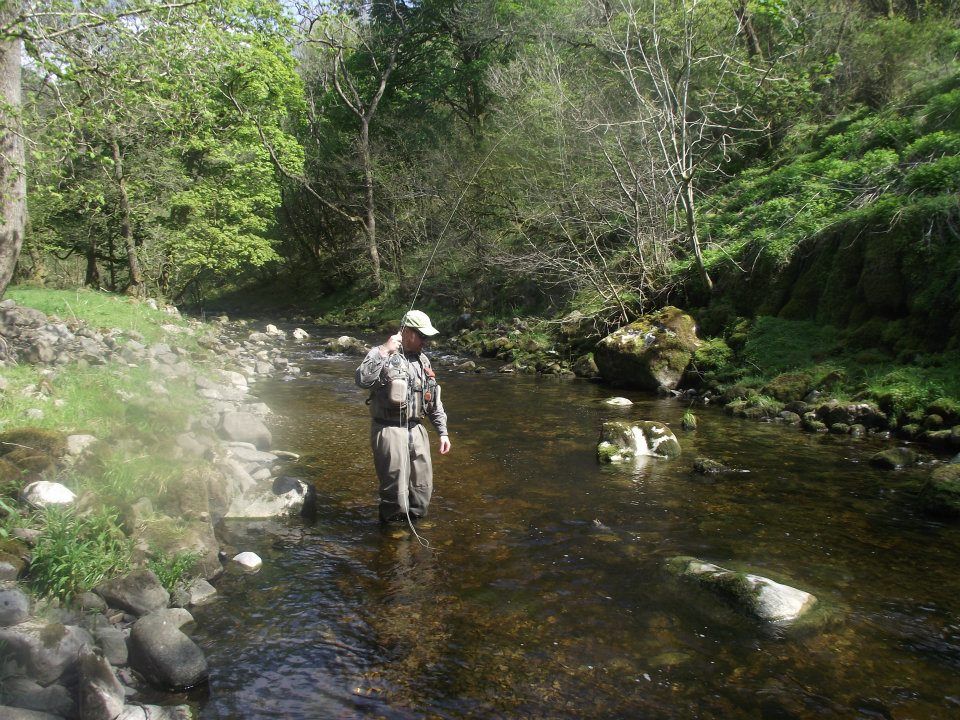 The rural Taff Fechan - a tributary of the main river