Blwyddyn Newydd Dda bawb!
I

decided to write a blog to document my fly fishing experiences, share useful information and (hopefully) make some people smile. As an addict, I compulsively pursue brown trout, salmon, sewin, grayling and occasionally saltwater species (mainly in Wales). I intend to diarise these fishing trips, but will also include some successful fly patterns, discussion, opinion and 'colour'.
I started as an eight year old living in Merthyr Tydfil, fishing the Taff and surrounding reservoirs; at thirty four years old, I live in Monmouthshire with the Usk as my local.
Currently, I am a member of Merthyr Tydfil AA, Ogmore AA and hold an Ospreys 'winter ticket' allowing regular access to beats on the Taff, Usk, Ogmore and Ewenny. In the coming season I also hope to join two or three other local clubs (so watch this space).
My work takes me to every corner of Wales. It can mean leaving the Usk (and the wife) when in perfect nick, but overnight stays and annual leave provide me with the opportunity to boat fish or float tube the upland lakes of Mid and North Wales and flog the renowned sewin rivers – the Teifi, Tywi and Dyfi.
I am often accompanied by friends who may be described in my entries. Last year I had the privilege fish of fishing with seven or eight individuals and hope to increase this over the next twelve months.
I work in the environment and energy sector and am concerned about climate change, pollution and land use issues that affect the countryside, particularly our rivers. I also take part in rural pursuits regularly working ferrets and lurchers in the colder winter months. T
his winter, one of the wettest on record, has been as bad for ferreting as it has for grayling fishing.
I fish and tie flies purely for enjoyment and consider myself an enthusiast. (Hopefully) lacking ego, I am not selling anything and provide a punter's point of view. I shall not produce pages of technical instruction -as there are many excellent blogs that do a far better job than I could- but I will include essentials such as the quality of the beer where I stayed, the mood of my fishing companions, where I got the day tickets and who fell in.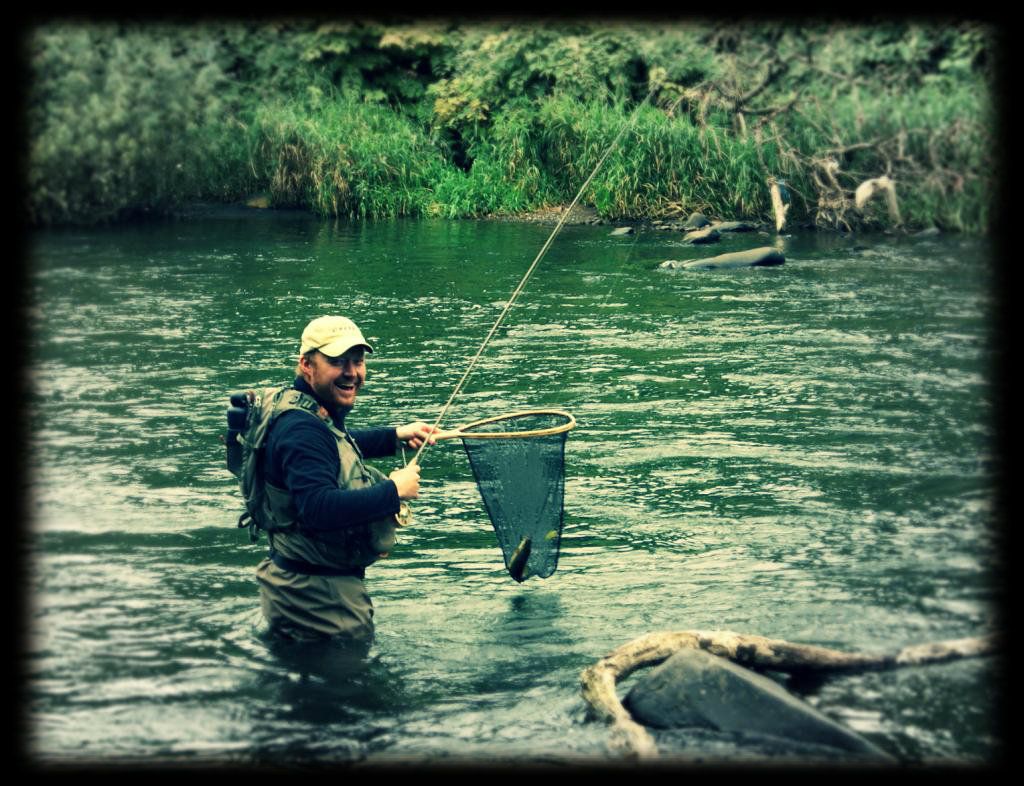 Me on the Taff (picture taken by Mr Sion Lewis)