In May I was lucky enough to fish three upland lakes in Mid and North Wales - Llyn Gwyddior, Lake Vyrnwy and Llyn Morwynion. All three are picturesque, contain brown trout and can be very productive at certain times of year and in the right conditions.
Llyn Morwynion on Foot
After a long day of meetings in North Wales I was to stay in Blaenau Ffestiniog (a few miles from the next day's fishing). For the uninitiated I'll describe Blaenau as a unique place and leave it at that, except to say that it has a rich fishing heritage. There are Welsh language books that feature flies from the region, and in times past many of the slate workers were notorious for their use of the 'styllen' or otter board. Locals have told me that they had special hiding places near the the lakes or llynoedd for their boards, and often others would know of these and borrow them.
After a decent steak and chips and a pint at The Grapes in Maentwrog, I arrived at my clean but basic guest house only to discover that the beds were not designed for modern man.

On foot...

It made for a long night, but I consoled myself with a few home comforts!
Blaenau essentials (minus styllen)
The next day I purchased my day ticket at the
Post Office in Llanffestiniog
(for about £15 I think)and drove a few miles to the remote roadside car park from where the Llyn is a short uphill walk. Llyn Morwynion contains a good head of small(ish) brown trout and at one time was lightly stocked with rainbows. I had chosen Morwynion and not the more popular
Llyn
Gamallt
, as I was due to fish Gamallt a month
or so later.
Of the Cambrian lakes, Gamallt is my favourite; suited to float tubing, it holds some excellent quality, good sized brown trout. I believe that it was restocked a number of years ago with trout from another Llyn and they have since thrived on the (relatively) abundant terrestrial and aquatic insects. I recently saw a photograph of the stomach contents of a summer Gamallt trout (in a work meeting) and it had consumed a number of different terrestrial species.
It was a cold cloudy day with some heavy showers and an easterly blast, but from my elevated position you could see for miles. Conditions were hardly ideal but I was happy to be there in my neoprene gloves and fleece jacket.

The morning session went as expected. Fishless. Dim sosej as my mate Aled would say. I had started out fishing two of the local wet fly patterns on a six weight clear intermediate line but when this brought no success, I tried various tactics, on top and deep with a floating line.
When changing back to the intermediate, I decided to shake things up.

These dark thoughts coincided with me being directly opposite where I had started, having cast and stepped half way around the lake. Using 3X (5lb bs) Fulling Mill fluorocarbon, I knotted a 12 foot leader with a single dropper about 4 foot from the point fly.
I tied a size 10 black and white muddler (see below) on the point and a size 14 pearly black pennell on the dropper. Also for the first time that day, I waded in very carefully up to my waste. I cast up the bank that I had not yet fished (very close in) and stripped fast in order to try and entice a take from the fish that I knew were in the three foot of water.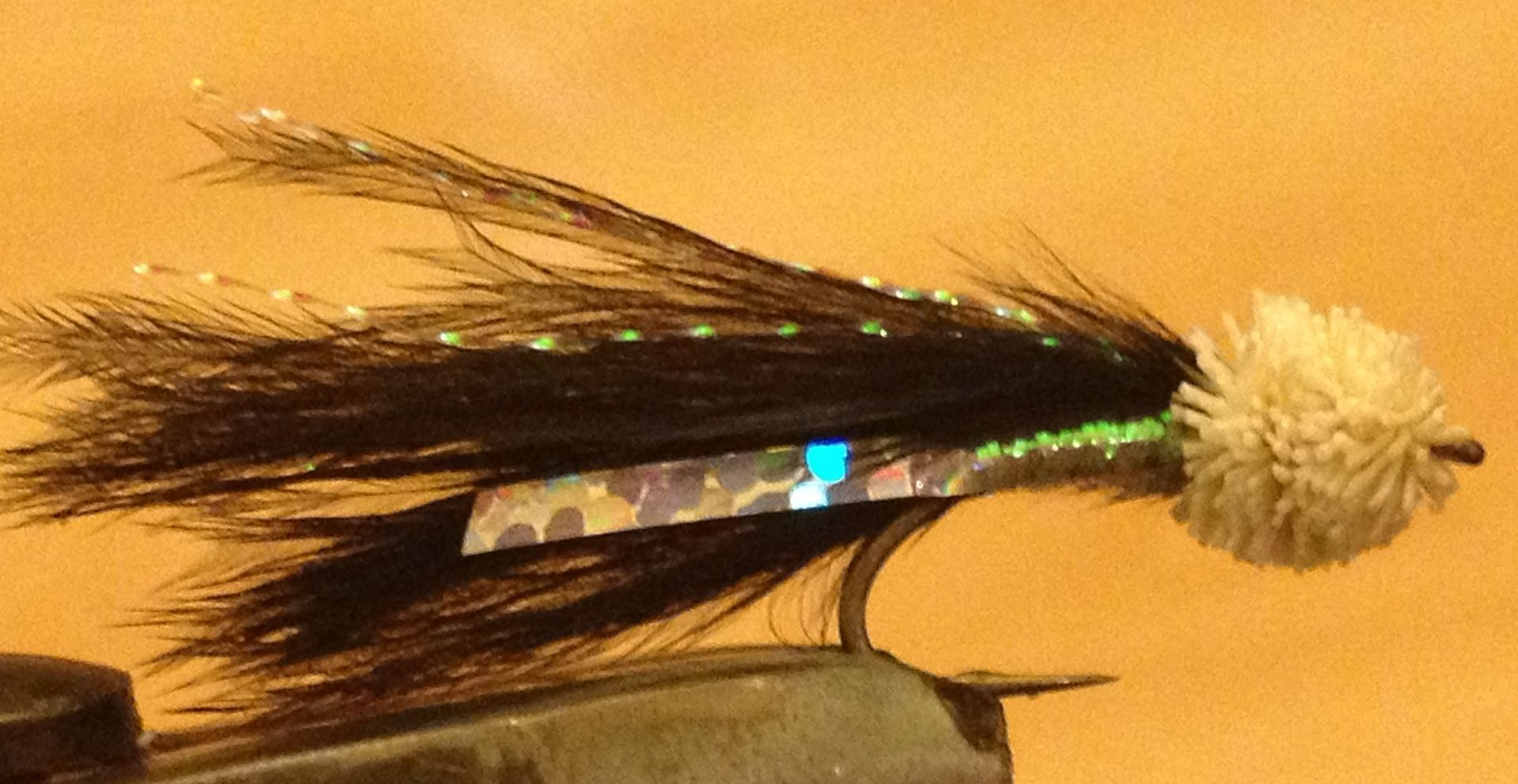 Shetland-type muddler
Hook: 10 wet
Tail: Black marabou with two strands of holo tinsel
Body: Crystal hair wrapped around shank
Wing: Black marabou and a few strands of crystal hair
Head: White deer hair (I've used elk)
This is my version of a fly I saw in an article tied by Stephen Breivik of Lerwick.
It worked like a charm with most fish coming to the dropper and any feelings of guilt being banished by thoughts of the styllen. Over the next two hours I caught over ten wild brown trout to eleven inches, slowly working my way up the bank but remaining in the water. The fish were not very big, but very welcome and the muddler clearly fulfilled its role as an attractor pattern.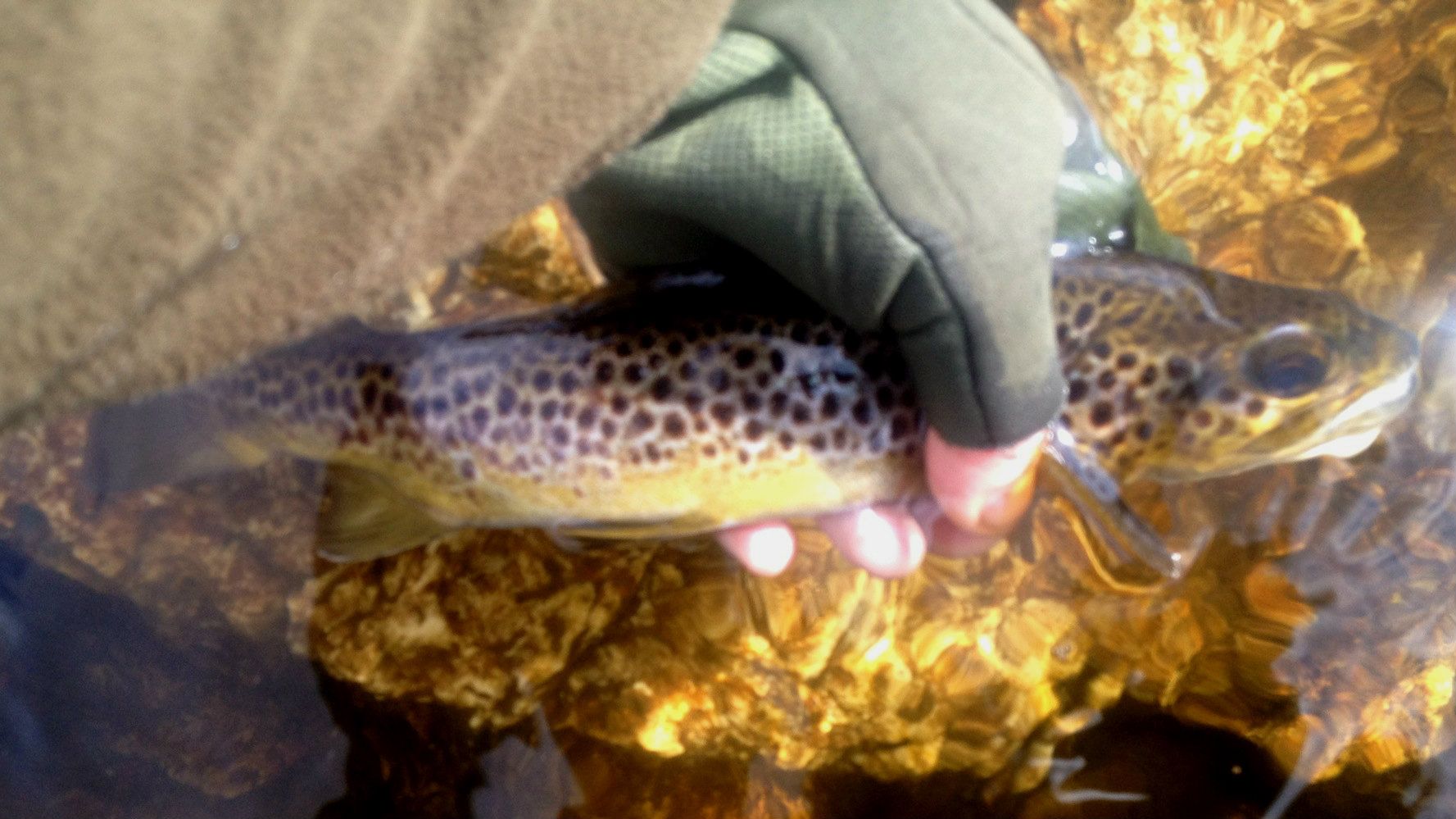 Average sized Morwynion trout

By around 4pm the weather took a turn for the worse and and so I walked down the mountain back to the car. I was due to meet my friend Aled at a guest house on Lake Vyrnwy and was looking forward to a meal and a few beers in the hotel.
Lake Vyrnwy by Boat
On the map it looks an easy journey east from Llanfestiniog to Lake Vyrnwy. You travel over mountains roads past the sweeping Llyn Celyn and down to Bala and Llyn Tegid which contains grayling and gwniad (a whitefish native to the lake). From there you take a narrow road that nearly reaches the wild summit of Foel y Geifr (roughly translated as Goats Hill ) and then delivers you down to Llyn Efyrnwy, or Lake Vyrnwy. On the mountain track, in torrential hail showers, it was pretty hairy and I was glad to be in my small four wheel drive (definitely not a hairdresser's car). It was like a different world when I arrived at the guesthouse and saw Aled sitting in the sunny garden, such is our variable weather.
That evening we ate at the hotel bar and enjoyed more than a few beers over some games of pool. After a terrible night's sleep listening to Aled's deafening snores we picked up the permits, batteries and motor from the hotel.
Unfortunately that day we experienced torrential rain and strong winds and those photographs I did take between downpours were even worse than usual.
We caught fish from the off. Previous experience told us to fish wet flies close to the inlet streams in the shallower north end, and the fish did not disappoint.
These Loch Leven derived fish averaged 10 inches with the largest being around 13 inches. What they lacked in size they made up for in number with frantic sport at times.
The best fly of the day proved to be a size 12 Kate Maclaren variant but I also experimented with the muddler again. With this gaudy mini-lure on the point and a fast strip of my intermediate line the dropper flies definitely took more fish, and a few also took the muddler (much to Aled's distaste). As part of the muddler experiment I moved it to the middle and top droppers, and experienced far less success than when it was in the point position.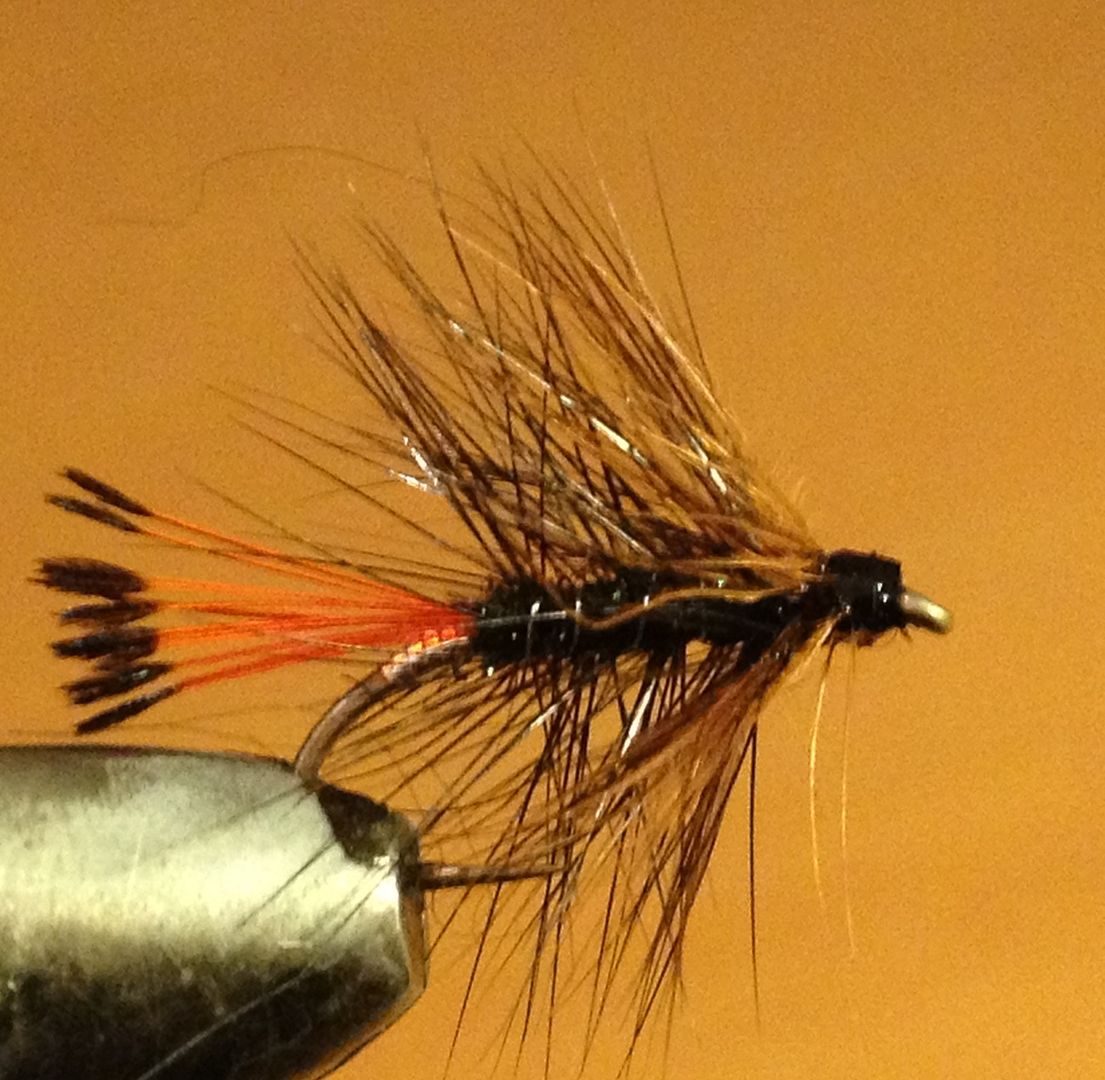 Kate Maclaren variant

Hook: 10-14 wetfly (this is Varivas 2400)
Tag: Silver mylar
Tail: Golden pheasant tipped (hot orange)
Body: Black spectra
Palmer: Black cock / hen (I've used cock here but I also use hen especially for middle dropper flies)
Front hackle: Brown hen
I think I saw this variant, or something like it, in FF&FT.
By late afternoon the weather had dried up and Aled and I were happily tired after a successful day talking nonsense in a boat. It was a long journey home but as I travelled back through Welshpool, Newtown and Builth Wells I felt lucky to have the opportunity to fish with my good mate in such surroundings.
Llyn Gwyddior by Tube
Through the winter, there is probably not a week that goes by without me tying a 'fly for Gwyddior'. The lake is managed by Llanbrynmair Angling Association and is one of two that you can float tube (the other being Llyn Coch Hwyad). I first fished Gwyddior six years ago making a few trips per season ever since. It is a secluded spot and the lake is relatively prolific with larger than average hard fighting brown trout.
May usually sees the fish preoccupied with olives and this can be a good time to catch a specimen. The largest fish I have witnessed caught there was by Aled and it measured around 16 inches. I have also heard reports of others (including a well known fishing journalist) catching a larger fish than this.
It was the last week in May and I met a friend Dick in the car park at Llanbrymair.

Being a relatively recent convert to float tubing it is reassuring to fish with an experienced hand like Dick.
After calling in to see 'Emyr Lewis of Llanbrynmair' for some permits -Emyr is a very experienced fisherman and has provided me with some excellent advice on brown trout and sewin- we travelled the narrow road and then the forestry track that leads to the Llyn. While it is not essential to have a four wheel drive for this journey, it certainly helps, particularly where a brook fords the road. During wet periods this road can become impassable in a car and fishermen need to be mindful that it is possible to become stranded (as Aled and I once were).
When you arrive you can either take an off-road vehicle (through some boggy ground)down to the lake, or you can walk. When boat fishing it is preferable to drive down with electric motor and batteries, but there is no need with a float tube on your back.
It was a a sunny day, warm for the time of year, with a stiff south westerly blow. I was using a 9 foot #5 Partridge rod (that I bought on ebay one night after the pub) with a floating line. My cast included a sooty olive with two small jungle cock cheeks on the point and an olive dabbler on the dropper. Dick fished a Harry Tom and a black palmered fly. We both experienced some excellent sport and I returned ten fish over 10 inches.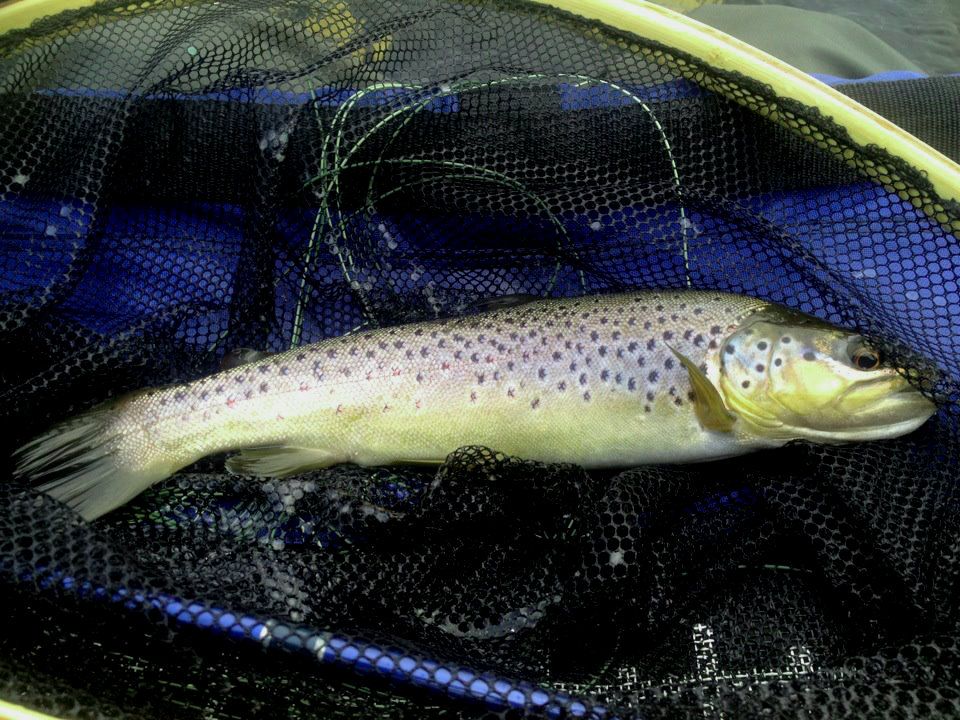 Typical Llyn Gwyddior trout
The highlight of the day came around lunch time when there was a large hatch of olives with the airborne adult upwings being blown to the north end of the lake. Dick and I held our positions about 15 meters from a weedbed and cast to some rising fish for thirty minutes or so. Most of the fish fell to the dabbler (see below) stripped quite fast, and all were highly visible takes. It was hard work remaining in one spot in the stiff wind, but it caught us fish.

Olive dabbler

Thread: Olive powersilk
Hook: 10-14 wet
Tail: Bronze mallard
Body: Olive seals fur sub (I tie this in light, medium and dark)
Rib: Pearl tinsel
Palmer: Olive cock (I also use hen depending upon the effect I want)
Front hackle: Bronze mallard (for this version I cloak the top half only)
After this action, with the sun high in the sky, things went quiet; this prompted a change to a heavily weighted nymph on the point and a jungle cock HE diawl bach (see below) on the dropper. Fished with a slow figure of eight retrieve, three good fish fish smashed the diawl, snatching the line free from my left hand.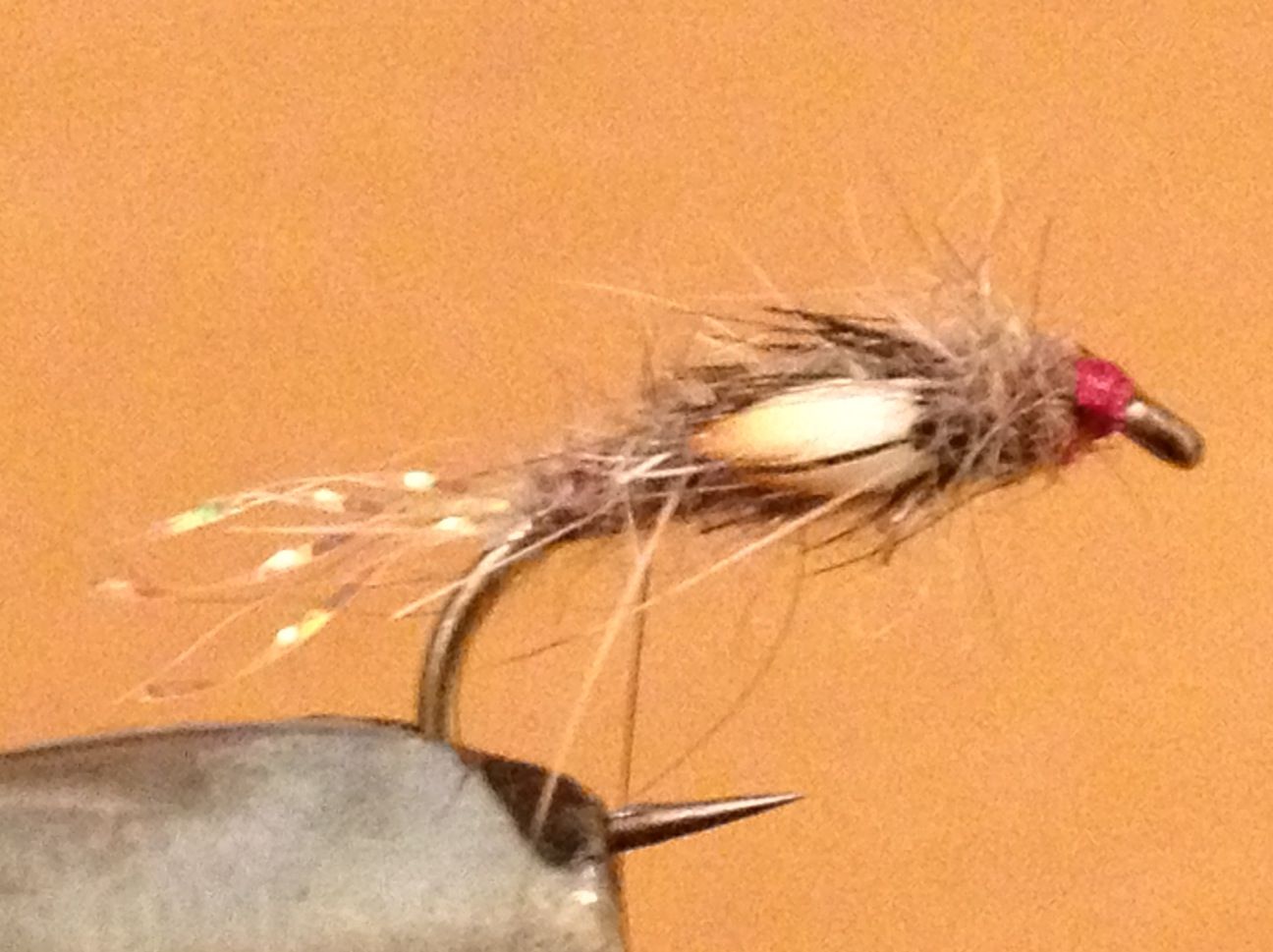 Hook: Size 12 heavy wire (I think this is a Kamasan B175)
Tail: Three strands of fine crystal hair
I copied this from a fly I saw in a shop.
By early evening I was exhausted and must admit to getting cramp every ten minutes or so. All in all, we achieved a good return in the bright conditions and I was very pleased with the the quality of the fish, the savage takes and way they fought on the five weight. Worth every minute of those winter nights on the vice and the two and half hour drive home.