This time last year I was out at least three times a week but, as a recently middle aged new owner of a large debt on a property, domestic life and DIY drudgery have hampered my exploits. Having written all that, I did escape for a couple of sessions on the Usk and a day on the Avon (coming soon).
Each evening I walk the dog along the river noting the hatch and what the trout are taking. Last week, often in the pouring rain, the trout competed with martins for yellow may duns. Martins, swifts and swallows provide one of my favourite sights on the river when they take yellow may duns off the water, and especially in mid-air.
Emergers
During the last three Usk sessions I have tempted numerous fish on yellow may emerger patterns.
This spun CDC style is adapted from a Paul Procter mayfly emerger pattern: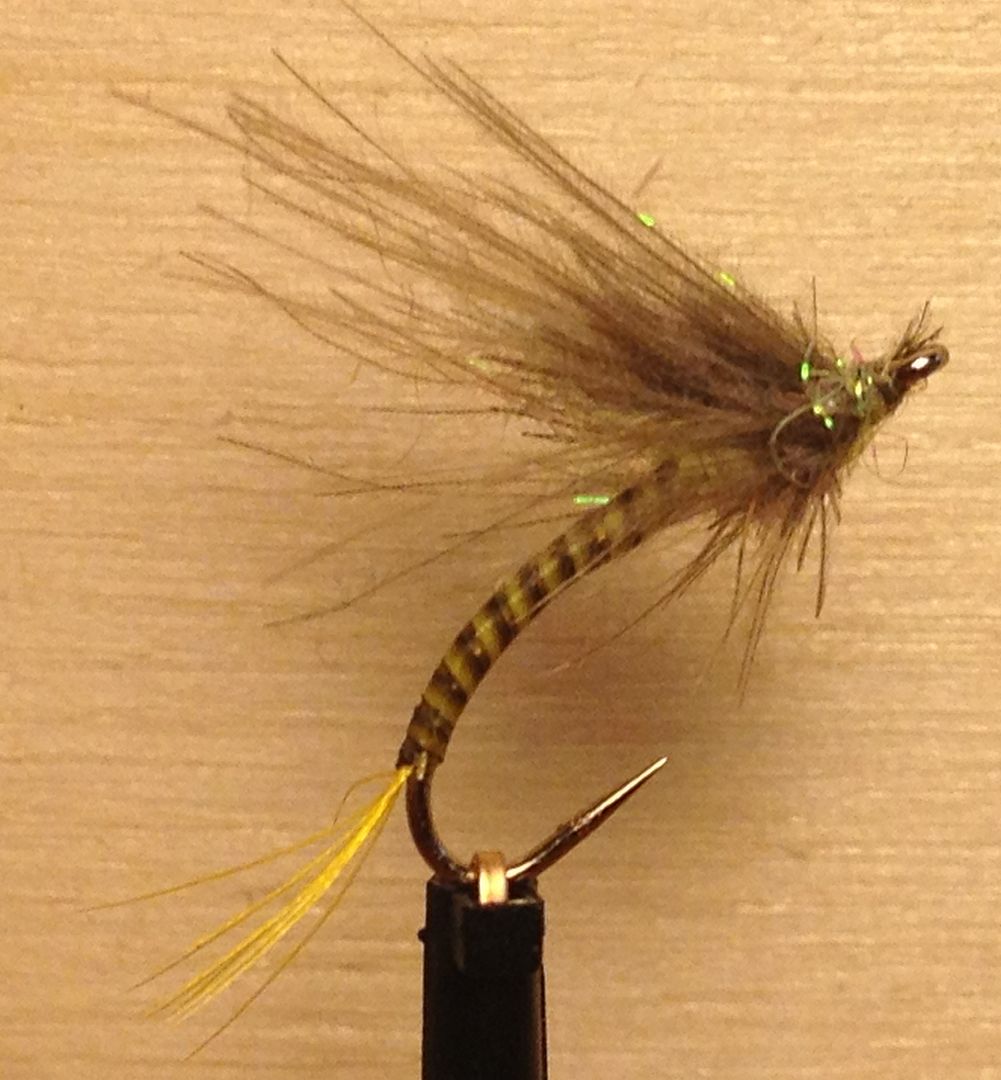 At the head I like to use a very small amount of yellow spectra spun via a split thread in order to give a trapped air effect.
Spooky
When fishing in low clear water, if fish refuse a fly that I know has previously worked, the first thing I do is degrease.
Usk fish, feeding in slow clear water have declined my offerings with a freshly degreased 6X point, but responded when using 7X. I'm sure some will tell me that this is nonsense, but I've experienced it numerous times.
I don't degrease to sink the leader, I do it to take the flash off the the tippet. I don't want the leader to sink as I think that this adds drag to the fly and the mud that I use never seems to sink my copolymer tippet.
To emphasise how cautious Usk fish can be, last week my friend Dan Popp and I conducted an experiment when we spotted a very large fish feeding on emergers. Dan crouched down higher up the bank below the fish while I attempted (heron-like!) to enter the river downstream. Before I was in up to wellington height, the fish was back under the overhanging bank on the opposite side.
As it was a bright slow afternoon, I waded in further and decided to wait to see if the target started to feed again. Luckily a few small fish started rising 20 metres downstream and I entertained myself collapsing the cast, feeding them line and trying to hook them on a spun CDC yellow may emerger and 7X tippet- I managed one.
Well after I'd put the rest of them down, and about twenty minutes into my vigil, I noticed a protrusion on the surface (that left no bubbles) adjacent to the lie of the big fish. My first cast was deliberately short in order that I could assess the current speed and angle. The second covered the fish and, as my hands trembled, the lump slowly rose and turned - remembering to breath, I lifted. Immediately the trout realised its situation and dived violently to the river bed. Upon a third short run, the line went slack. I was afraid to look, but knew that the fly was no longer attached to what was left of the 2.5 lb bs tippet. Despondently I wound in and went home. I hate leaving flies in fish (even if they are barbless).
Resolutions
I shall persevere with 6X tippet and no longer use 7X unless I'm fishing micro dries, and I am reminded to check my leader more regularly for scuffs and kinks.
I am also going to do my damnedest to catch that fish.