June mayfly
As everything on the Usk is three weeks late this year, I had some good sport with mayfly feeding fish in the early part of June.
Some of the older locals have told me that the Usk trout are 'afraid' of mayfly for the first few weeks and that the hatch doesn't amount to much. While I don't think the mayfly sport is as good as on the chalk streams, or even the nearby Monnow, I still beg to differ. Most seasons I have some sucess with mayfly emerger, dun and spinner patterns.
During the last week in May, I noticed a few danica whilst out walking the dog. The specimen below landed on my dog's back, which was a bad move as she turned around and ate it!
Danica
By the second week in June, some Usk trout appeared to be responding. It was during this week that my wife was away with work for two nights and I too responded. On the Wednesday I arrived at the Bakers (GAS) beat at 7.00pm and was delighted to be greeted by clouds of dancing spinners.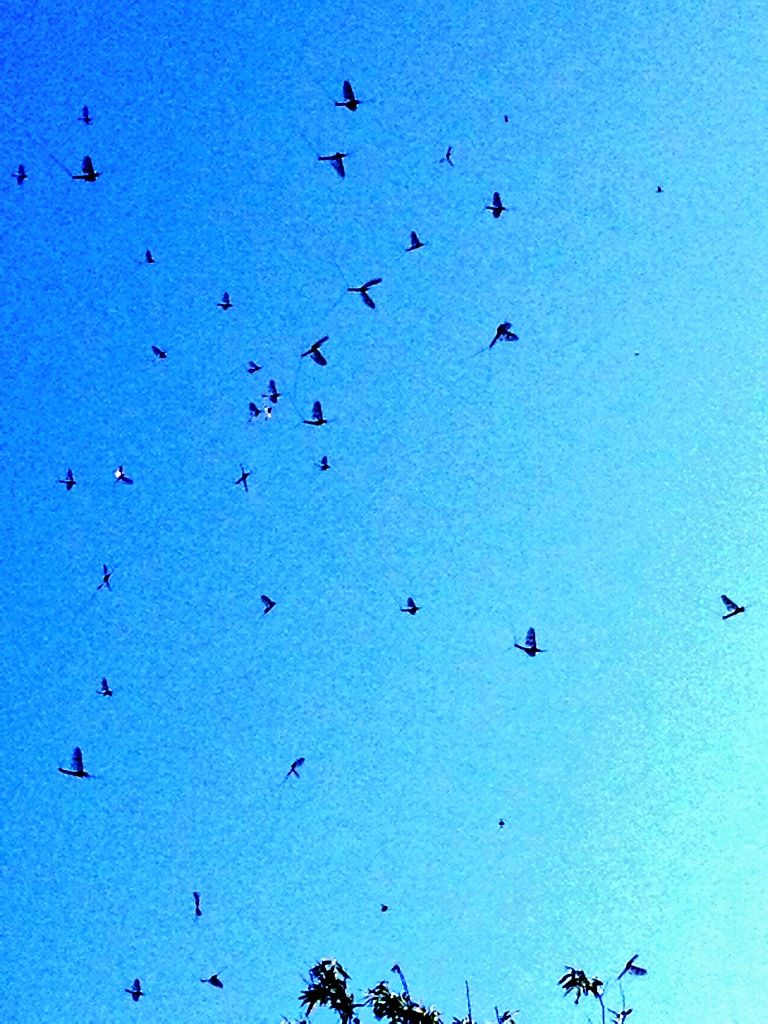 Usk Mayfly
Being a member of both GAS and MTAA, I walked the half mile or so downstream to the Kemmeys beat with the intent
ion of fishing the river back up to the car by dusk. I noticed a few fish feeding on emergers and suspected that they were taking both mayfly and
the abundant yellow mays.

Stockies
I started out fishing a yellow may emerger which tempted a few fish to just over a pound, one of which was a stockie. Over the last ten years I have only caught a couple of stockies on the lower river, but this season I catch one most sessions. I chap them as, in my opinion, they have no place in the river and I wish the few clubs and owners that introduce these stunted creatures higher up would manage their water properly and cease to do so. I concluded that this batch was stocked in Abergavenny at the start of the season during, or just before, a period of high water that washed the poor swimmers down river. Even though they've been in a few months these beasts will take most correctly presented flies and are often missing their pectoral fins.
Take 1
As I worked my way to the top of the pool I noticed that there were more danica coming off and so changed to a mayfly emerger. No sooner had I done so than I spotted a tiny blink-and-you'll-miss-it rise form tight to the bank, in about three feet of slowish water.
Considering the flow, I presented the fly two feet diagonally above the fish and, as it drifted towards the bank, the fish took very softly and ran hard up river. After a decent fight a shovel-tailed eighteen inch fish was slipped into the net.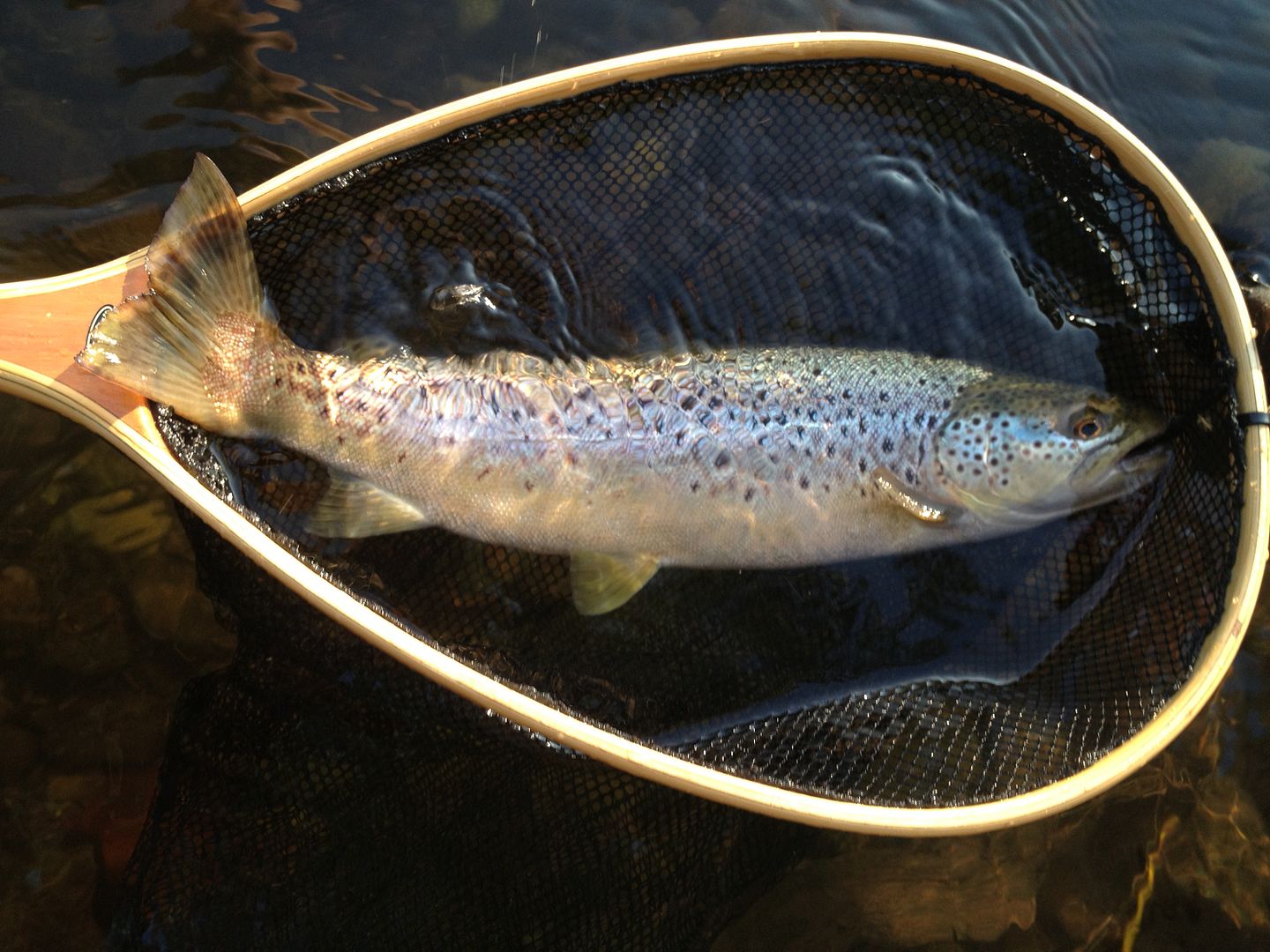 Take 1
The actual fly that tempted this lovely brown trout has taken a bit of a hammering and is pictured below. It's a Paul Procter pattern that I tied on a size 12 emerger hook with an Aerodry shuck and loop wing. I especially like the pearl mylar rib and tag on this version.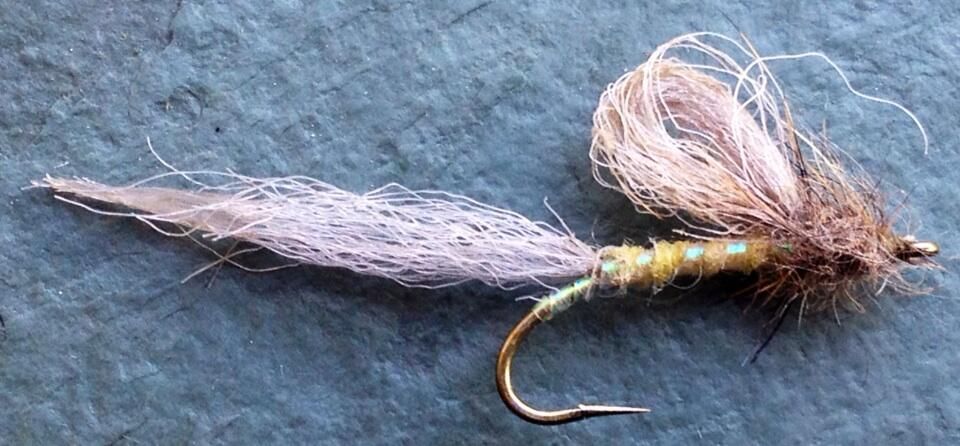 PP Mayfly Emerger
Defeated
Every now and then I make a real hash of things on the river and that evening included one of those occasions.
The light had dropped and I moved up river
with my sunglasses perched on my cap. I stopped and watched a fish occasionally rising in some very deep, slow water and wondered if I could get close enough without spooking it. Carefully wading to nearly the top of my chest waders I made a few longish casts. The fish took on the third pass and I immediately realised that I was into something big as it dived deep making three initial heart stopping runs.
I had cast over 15 metres and the fish emptied my reel with ease. This was the first river dry fly caught fish to take me to the backing and my main concern was to get some line back and not allow any slack. As such I held my rod high, and moved towards the angry fish as quickly as I could with both arms fully extended above my head. This resulted in water overflowing my waders and my sunglasses falling into the river. At the time, I wasn't too bothered as the fish was still on and I had some line back on the reel.
I'd not yet seen my foe and was desperate to do so. I managed to retrieve about half of the line and considered retreating into some shallower water. As I stepped back the fish ran down stream, lightening fast. I recall some spray from the reel cooling my flushed face just prior to the line sticking and my tippet snapping.
Defeated, damp and shaking like a leaf I wound in.
The next day I learned that a number of good sea trout had been seen, with a few caught, lower down the river...
Take 2
The following evening's routine followed that of the previous and, by 8.00pm, I was in the spot where I'd caught the 18 incher on the mayfly emerger. I again noticed a very small rise in the same lie, covered it and landed the fish below. Another cracker from the same spot (I thought).
Take 2



I
t wasn't until I arrived home and looked at the pictures that I realised there was a chance this was the same fish. The closer I looked, the more convinced I became. My photographer mate, Jon Poutney, then overlaid the two images (see below).
Haven't I seen you somewhere before?
I have previously suspected that I've caught the same fish twice, more than a couple of weeks apart, but never with the same fly on the next day. The most pleasing aspect is that it was clearly unharmed by our previous encounter and actually fought harder the second time.
It's probably pushing it to ask for a third meeting, but every time I cover that lie, I hold my breath. We live in hope.