Alone with my thoughts
With the window down, John Phillips sang Topanga Canyon on the CD player (much louder than usual to keep me awake):
'Oh Mary, I'm in deep water, and it's way, way over my he-e-ead!'
It was 10.30pm on a July Thursday and tired, hungry and dressed in my formal work clothes, I was driving down the A470 with an energy drink at my side. (I dislike them but keep an emergency can in my sewin bag for when needs must).
I'd just left the upper reaches of the River Dyfi north of Llanbrynmair and, with a two hour drive ahead, I reflected on the previous weeks.
I'd fished two consecutive days and a night on the Teifi and another two nights on the Tywi -with only a couple of small fish and dark bags beneath my eyes to show for it. In poor conditions the fishing had proved very difficult and, as usual, I taunted myself with thoughts of lost fish, missed takes and what might have been.
River Dyfi, July 2013
I left my house in South East Wales at 7.00am for some meetings in Aberystwyth. By 4.00pm I was on the road to Reeds Garage, Machynlleth, where I paid £17.50 to the New Dovey Angling Association for a day ticket on the upper reaches of their river. Tickets are also available at the Post Office in Cemmaes (nearer to the fishing) but, being a Thursday afternoon in rural Wales, I knew it would be closed.
That morning I had noted that the Dyfi -a small flashy river- was dropping to a nice level for daytime fly fishing after the previous day's spate. On my journey upstream, my excitement was fuelled as I noted all of the fishermen's pull-ins were occupied. We had benefited from the first significant rain for months and the locals were out in force
.

Looking away from the river - the Dyfi Valley


I fished a mile or so of water, changing tactics as I moved. By 9.00pm I hadn't seen a fish, but didn't given up hope as the last hour is often the best. I fished a fast glass line with two wee doubles, casting square and varying the speed of retrieve.

The Dyfi near Cemmaes Road
The pool I finished on had a line of boulders that had fallen into the water on the far bank, providing lies for the fish. Towards the tail I changed to a rolypoly retrieve, effectively 'spinning' the wee doubles. On the second cast, behind the largest boulder, a fish smashed my red butted black hairwing point fly. I quickly landed and returned a coloured fish of a pound or so. It looked as though it had been in the estuary for a while, certainly not big, but a fish all the same.

Dyfi sewin
A potted history
Sewin or sea tout are the fish I like to catch the most. There's something about them, the places where they are found and the way they are fished for, that gives me a feeling like no other. I have only chased sewin on the west side of Wales; on the Dyfi (Dovey),Teifi, Wnion and Tywi (Towy), and like it that way.
I first ventured to the Towy when I was twelve years old. An older friend and I fished near Llandeilo for the entire night. In hindsight we were clueless and there's little wonder we caught no sewin. By 4.00am I had my eight footer out with a grey duster happily catching tiddlers in the dawn. On the way back, my companion dozed off at the wheel and, when I miraculously arrived home in one piece, I was in big trouble after a bad report from the school parents' evening the previous day.
Later in life, when my friend Aled taught me how to night fish more effectively, I would regularly catch one or two. Like the gambling man who wins first time he lays a bet, this beginner's luck ensured I was hooked.
My largest ever sewin is pictured below. It was caught on the Dyfi at dusk on a wee double. In catching this nine pound hen, I learned a hard lesson: If I want to return these fish, I have to bully them to the net as quickly as possible. It took well over five minutes to land after it lodged itself in some tree routes and, as
a result, it wouldn't swim away (even though I didn't take it out of the water), and ended up on the table. While it was delicious, fish of this size are not as good to eat as the two and three pounders that are far less important for breeding stock.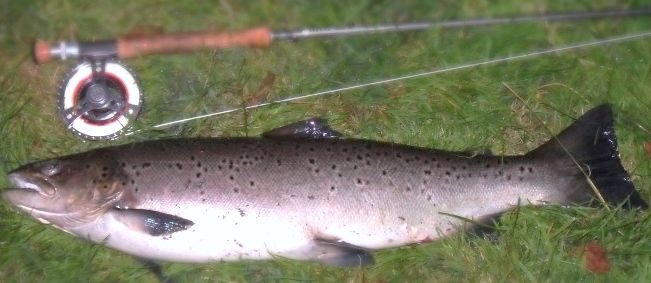 The size of the prize
River Tywi, July 2013
I'd been looking forward to the third weekend in July for a few months. A friend Brian kindly offered to put a number of us up at his house and cottages near the river, and he and David had arranged for us to fish at Golden Grove for two consecutive nights. I am very grateful to both as we had a great time, with the company more than making up for the difficult fishing in poor conditions.
I'd been tying for this trip for a number of weeks and was hoping that some sport could be had using surface lures like the jambos pictured below.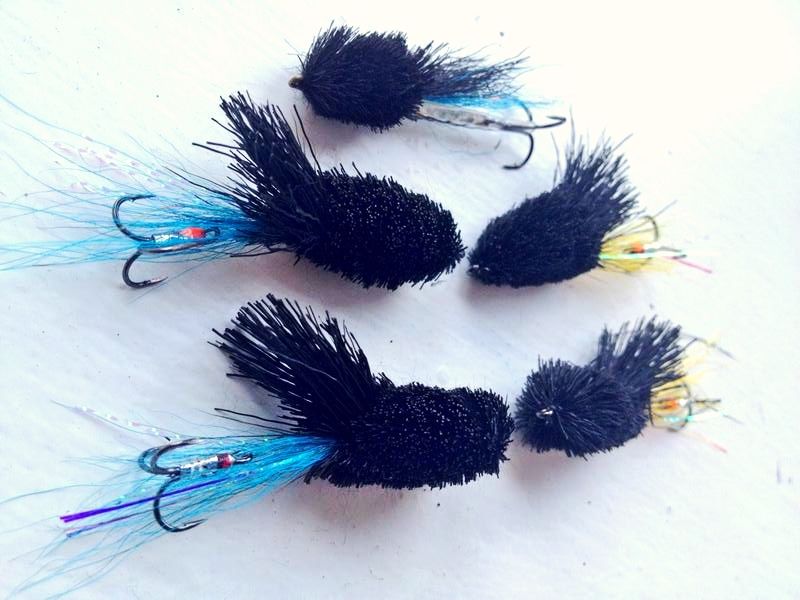 A pod of Jambo
Unfortunately we were in the midst of one of the warmest spells I can remember and the skies were clear and the river like bath water. It was also during a period when the moon was full, casting our shadows across the open parts of the river.
I often wonder if a bright full moon is always detrimental to sewin fishing, after all, the light must improve visibility of the fly's silhouette. Perhaps air temperature is more important; a full moon is obvious on a clear night and the lack of cloud cover usually results in lower air temperatures...
What I do know is that the little action I did have on this trip occurred either when I was facing the moon, or with the trees shielding my back.

Moon on the Tywi
On the first night we landed no fish. There were big fish splashing in some of the pools but they were not in the taking mood. I managed to lose a smallish fish on a secret weapon and moved one on a surface lure.
On the second night there were no fish moving and, for the first hour, I fished a pool with some obvious lies (recommended to me by David). I concentrated on these 'lay-bys' and managed to hook and land a small fish employing a slightly upstream cast with a two inch aluminium tube on a fast glass line.


'I've got bigger tube flies' - the smallest sewin in the Tywi
After letting my companion, Richard, fish through the spot, I employed the same tactics again and had three good 'buzzing' knocks with which I didn't connect. I later discussed this with Alun Rees (a good guy and sewin expert). He imparted that, where possible, he always observes the line at the end of the rod and strikes when it moves in any way other than that expected from his retrieve, often before the take is felt. With the moon offering plenty of light, perhaps things could have been different...
River Teifi, June 2013
Every year, my mate Aled and I meet up at his caravan in Cenarth to have a few nights on the lower Teifi. Over the last two seasons we've not landed a 'proper' fish between us. On the third night last year, I lost a cracker on a secret weapon that triggered some of the worst swearing ever heard in in
the Newcastle Emlyn area.
It was cold for the time of year with the dreaded 'tarth' descending by midnight each night. Tarth (Welsh for fog or mist), results from a drop in air temperature and is a session killer. A likely reason for this, suggested to me by those in the know, is that if no light can penetrate the river through the tarth, then the sewin cannot see the silhouette of the fly.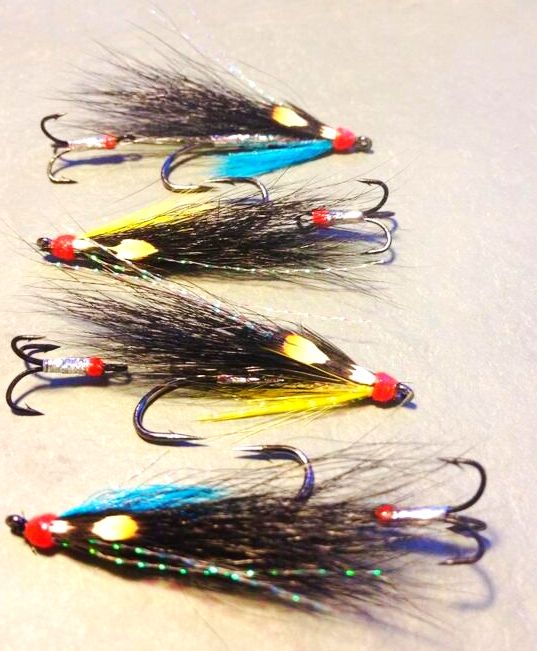 Secret weapons
This year it started raining and, by midnight on our fist session, the river was rising and colouring limiting us to day and evening fishing. On the first day I lost a herling and Aled landed one very fresh fish of around a pound.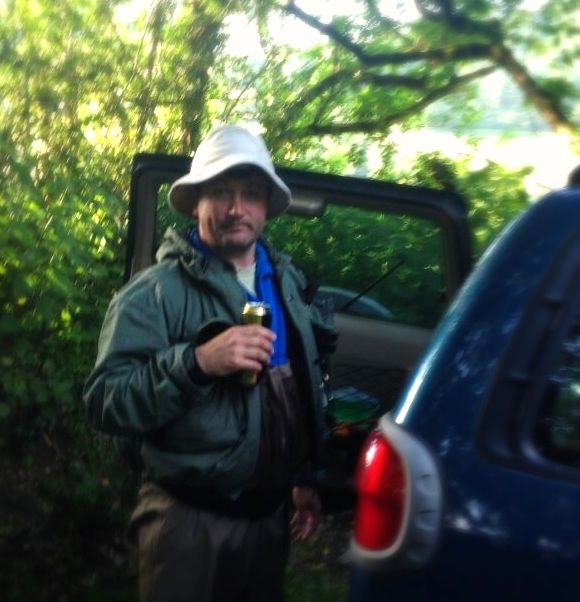 My mate Aled, 'fishing'


On second day we travelled up river to take to a ticket on Llandysul Angling water. We met a friend Steffan Jones at the Porth Hotel where we purchased our day tickets. Nobody knows this part of the river and its fish better than Steffan and we were very lucky that he offered to show us around some very picturesque water. After discussing flies and tactics Steffan departed, leaving us to our own devices.

All the gear, no idea / a
ll the kit, s***!
We fished two wee doubles fast in the slightly coloured, falling river and the first couple of hours saw us catch over twenty brown trout to ten inches. About half way down a likely looking pool I managed to intercept a small sewin that jumped and slipped the hook.
By dusk we were at the top of a beat, fishing a deep pool that Steffan told us to leave until last. Aled had decided that -in the coloured water and low light- enough was enough and watched me make a few final casts. I had changed to a small aluminium tube that I was slowly figure of eighting. A good fish smashed the fly and fought hard and deep until it came off ten seconds later. A broken man, I said nothing and carried on fishing.
As we walked back to the car, my mood was softened by Aled's banter and the dusk light along this beautiful stretch of river.
The Teifi Valley
at dusk
Warning
Chasing sewin has provided some of my best highs and worst lows on the river. I shall never forget certain lost fish and still question some of the decisions I made in seasons past.
To the beginner
I say
beware - i
t's the crack cocaine of fly fishing.
As I write this there is little night fishing left for me this season, but I'll drop everything to get out one last time.

Deep water indeed.