Rock bottom - Early September 2013
Following a very dry summer that saw me out with the double hander on only three or four occasions, the Usk was on its bones for most of September. Even when we did receive water the river level fell back while still highly coloured. All very worrying and no doubt exacerbated by the numerous abstractions along the river.
Usk trout are some of the spookiest I encounter and, when the river is at rock bottom, fishing can be extremely frustrating.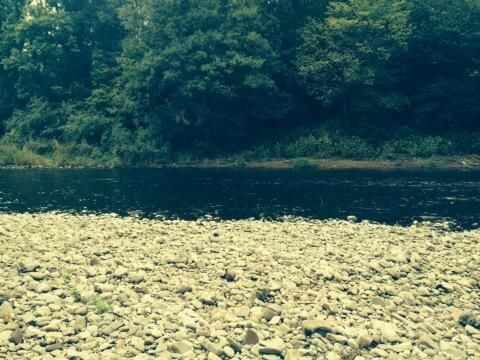 Summer low
Early in the month there were some decent evening rises with fish feeding mainly on small dark olives, sedge and midge. If I could get anywhere near those feeding in slow water -usually after shuffling in and standing stock still for ten minutes- any hint of drag, line flash or spray and the fish either refused or were spooked. I also had to be pinpoint accurate as the targets were virtually lying in the surface film. With a 16 foot leader, 7x point and size 20 - 24 dries drifted drag-free past their snouts, I managed a few, but experienced many last second refusals.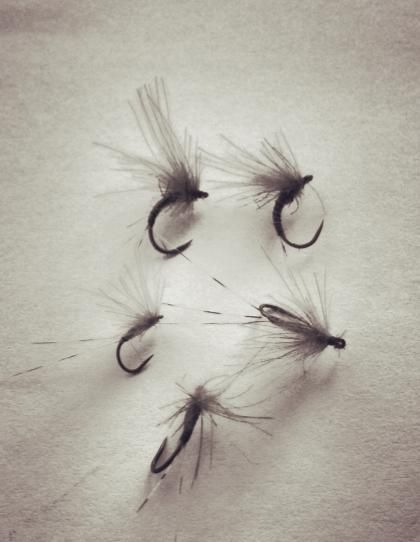 Size 20 and 22 spun CDC emergers and duns
On those evenings I'm ashamed to say I yearned for the large dark olive hatches of the early season; the April day Pete and I fished at Llanover, the session with Morgan in the heavy rain and the solo day I was snapped on the Mardy beat (see earlier entries). Even though the water was low and clear for the time of year, those afternoon fish were hungry, deep lying and often obliging. Certainly not easy, but less difficult.


Autumn Usk trout
Beginning of the End - Mid September, Ty Mawr (GAS)
By the second week of September, the windspeed increased and I had resorted to nymph tactics spending two happy late afternoon and evening sessions on Ty Mawr. I had given up on creeping around fish that lay in the margins and shallow runs, and concentrated on the deeper water where I had more cover.
Duo and trio tactics, with a sliding klink and spectra jig nymphs, worked well. During the first session I caught numerous fish up to 14 inches and was grateful for the lively sport provided by the well marked autumn browns.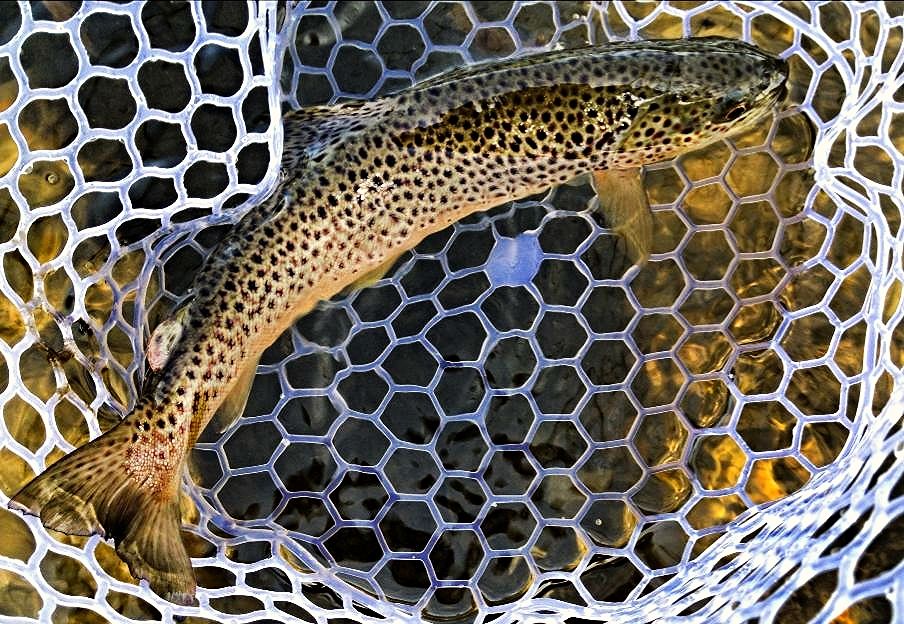 Pretty Ty Mawr trout
The second session started off the same, but after an hour or so, where I caught several small fish, I became bored and reverted to my favoured dry fly tactics.
Again, I left the water having been unable to connect with many of the occasional surface feeding fish.
End of Sports - Late September, Mardy (MTAA)
By the last Thursday in September, all pure thoughts had deserted me and I left the car armed with only my 11ft Streamflex rod and French leader rig. Informed by my recent experiences I knew the spectra jig nymphs would work well and, as I was headed for some fast runs, I selected two black nickel size 16s (a 3mm bead on the point and the 2.5mm on the dropper).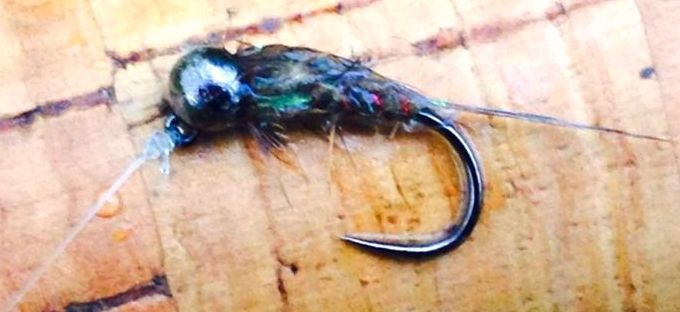 Wet spectra jig nymph

Hook: 16 Hannak or Fulling Mill jig
Tail: Coq de leon (I like to splay it)
Rib: Red ultra wire (the finest diameter I can find)
Body: Hare's mask dubbing
Thorax: Hends spectra dubbing No.15
Collar: Soft hare mask
Bead: 2.5mm or 3mm tungsten black nickel
While I've made some changes, I've seen similar patterns tied by Terry Bromwell, Kieron Jenkins, Nicholas Steedman, Gareth Lewis and others. For this pattern I have included a spun hare's mask collar but I (and others) also use
spun CDC, pine squirrel and various soft feather fibres.
Some may consider a 3mm bead to be too large for a size 16 jig hook, this is not the case. I catch lots of trout and grayling on size 16s with 3mm beads. Last year, my most consistent winter grayling pattern was a size 16 3mm sliver bead HE PTN variant.
I walked to the bottom of the beat to a run that has produced numerous good fish over the last few years. It's very fast and, as such, is hardly fished. As I made my way up the run I caught three fish around the pound mark. At its head, on the other side of the main current, there is a slightly deeper channel and back water from which I have caught a number fish over 2lb. That evening was to deliver one such fish (perhaps my biggest Usk brown of the season).
Apologies for the poor picture but the current is so fast, even in the margins, that I couldn't take my usual 'in the net' photograph and I didn't want to take time in returning the fish after a two minute fight. Safe to say this brown was a 20 inch minter and the image does not do it justice - you can only just see the double blues!


Late season Usk belter


The release
Looking Both Ways
It's been a good season on the Usk; I've learnt many important lessons and, probably as a result, have hooked more quality fish (not that I landed them all). We have certainly done the right thing in moving to within spitting distance of the river, although there have been some torturous moments when walking the dog along the bank (and being too busy to fish) during a proper evening rise.
I don't want to tempt fate but, for next season there is a chance I may be able to fish a mile or so of water within a two minute walk of the house (see below). This would be a true privilege and, if it comes off, I shall be a very lucky man.


The sun sets on another Usk trout season